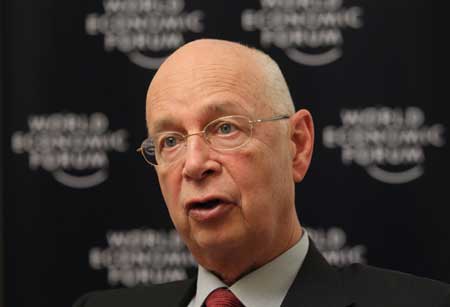 Klaus Schwab, founder and executive chairman of the WEF
The world economy has good chances of avoiding a double dip recession and the Chinese economy could expand by about 10 percent this year, said Klaus Schwab, founder and executive chairman of the World Economic Forum.
"I'm not one of those who feel the world will have a double dip," he said ahead of the Summer Davos Forum meeting, which opens on Monday in Tianjin municipality. "I'm fairly optimistic. I think we have learned from the crisis."
Also, yuan appreciation would not help narrow the trade deficit of China's major trading partners, such as the United States, he told China Daily on Friday.
While the developed economies remain weak, there is hope for the emerging market economies, he said. "Europe and Japan certainly, with a high level of debt, will have quite a number of years of slow growth. But I'm quite optimistic for emerging countries, particularly for China and India."
With economists already concerned about a widespread weakening of the global economy, the US could be a detriment to the global effort to revive the economy, he said.
The US Federal Reserve observed "widespread signs" that economic growth had eased in the six weeks to the end of August, according to its Beige Book report, suggesting the recovery was faltering in some parts of the country.
But the US is a very "entrepreneurial" economy, Schwab said. "We can be fairly optimistic that the US could come back to close to 3-4 percent growth in the near future. I think it's a resilient economy."
China would be a major engine driving the global growth with an annual growth rate of about 10 percent. "China's growth may decelerate to a certain extent, maybe going below 10 percent, 9.8 percent or even 9.7 percent this year."
But he said: "Going down from 11 percent to 10 percent is not a catastrophe," he said. "The economy is well managed by the Chinese government and we see that the latest indicators show that exports picked up again (in August)."
China's trade surplus narrowed to $20 billion in August, compared with $28.7 billion, thanks to expanding imports, which amounted to $119.2 billion, up 35 percent year-on-year. Its exports, however, continued to grow by 34 percent, which could provide the US congress with ammunition to demand a fast yuan appreciation.
Schwab said the US could have miscalculated the effect faster yuan appreciation would have on trade, citing the 2005-2008 period, during which the yuan rose by about 21 percent against the dollar but the US trade deficit with China increased.
"It's a very complex issue... The effect of yuan revaluation on the US trade deficit was not recognizable," he said.