President Hu Jintao and US President Barack Obama warmly greet each other before discussing a number of topics on the sidelines of the G20 Summit in Seoul, the Republic of Korea, on Tuesday. [China Daily]
The leaders of China and the United States struck a positive note as they met in Seoul on Thursday just hours ahead of the G20 Summit opening.
Experts believe their relationship will provide a boost for the summit that will have to deal with a number of disagreements among its members.
President Hu Jintao and US President Barack Obama held an 80-minute talk in the Republic of Korea capital just hours before the opening reception banquet.
The meeting came at a time when a number of issues, including the world economy and the US seeking involvement in China's regional relations, have risen to the surface.
"China hopes the US can follow a positive and constructive China policy, which is conducive to stabilizing and developing bilateral ties," Hu said on Thursday.
US Secretary of State Hillary Clinton said in July that it is in the US national interest to resolve maritime disputes in the South China Sea. China believes that such disputes should be solved in a bilateral framework between China and the countries involved.
Obama's trip to Asia has also been widely interpreted as aiming to contain China's increasing influence in the region.
Against the backdrop of profound and complicated global changes, it will be conducive for both countries and their people to jointly face increasing challenges through mutual trust, Hu said.
As bilateral ties are facing new opportunities, Hu pledged that both sides should seize the opportunity, advance cooperation, and maintain a positive momentum.
It was Obama's seventh meeting with Hu, the most he has had with any foreign leader since the start of his presidency in January 2009 - a record the White House says shows how highly Obama values their relationship.
Obama described the bilateral relationship as becoming stronger over the last several years, as the two countries discussed world and bilateral issues.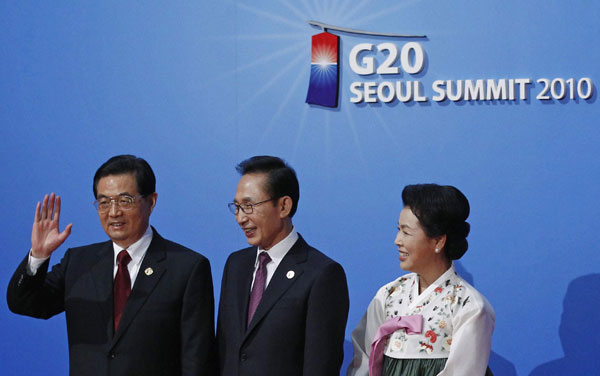 President Hu Jintao is greeted by South Korea's President Lee Myung-bak and First Lady Kim Yoon-ok at the G20 summit working dinner held on Tuesday at the National Museum of Korea in Seoul.[China Daily via agencies]
In their last bilateral meeting before Hu embarks on a US visit early next year, Obama said that it is of the utmost importance to the US to ensure the visit's success.
According to Zhu Feng, a professor at Peking University's School of International Studies, the primary significance of the meeting is that the two leaders sent positive signals as there are some sensitive issues in their bilateral ties.
Hu said that China is ready to hold "constructive communication" with the US on trade and economic issues, and find ways to solve disputes.
Hu also urged the US to loosen export restrictions on high-tech products to China as soon as possible and provide a level playing field for Chinese firms investing in the US.
The US accuses Beijing of keeping the yuan artificially low against the US dollar to boost its trade surplus.
China and some economists from the US reject the accusation, but China also believes that to maintain sound economic growth it needs to reform its current export-driven model.
China decided in June to advance reform on its exchange rate mechanism, a decision Hu said was not easy due to the complicated economic and employment situation.
Mechanism reform needed a favorable external environment, and could only be advanced gradually, Hu said.
The yuan rose for a third day on Thursday, touching a 17-year high of 6.6173 against the dollar. The People's Bank of China earlier raised the reference rate 0.31 percent to the strongest level since a peg against the dollar was scrapped in July 2005. Meanwhile, US exports to China experienced rapid growth which outpaced its growth in exports to other major trade partners.
Da Wei, a scholar with the China Institutes of Contemporary International Relations, said China's efforts in balancing trade is more self-driven than the result of external pressure.
"It is in line with goals in our recently announced next Five-Year Plan that emphasize a more reasonable economic structure," said Da.
In the meeting, Hu also said that China is quite concerned about the quantitative easing monetary policy adopted by the US recently, referring to the Federal Reserve's plan to buy $600 billion of Treasuries to stimulate the economy. Developing economies believe the action will lead to a surge of "hot money" inflows that will endanger their economic security.
Related policies taken by the US should take into account the interests of the newly emerging economies and developing countries, Hu told Obama.