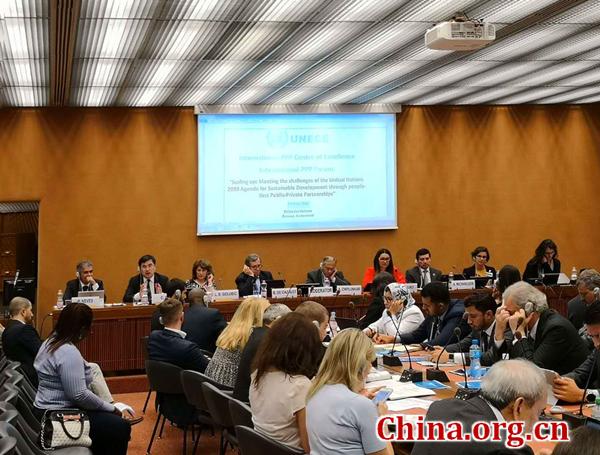 Gu'an New Industry City has been listed among 60 UN sustainable development Public-Private Partnerships (PPP) cases at an international forum on people-first PPP hosted by the United Nations Economic Commission for Europe (UNECE) in Geneva, Switzerland from May 7 to 9.

Among the five enlisted Chinese cases, the Gu'an PPP project is the only one which features comprehensive urban development.
The three-day forum, themed "Scaling up: Meeting the challenges of the United Nations 2030 Agenda for Sustainable Development through people-first Public-Private Partnerships," brings together almost 300 delegates from the government, international organizations, PPP consultancies, non-governmental organizations (NGOs), law firms as well as academic and financial institutions from 70 countries and regions.
"A good PPP project must be beneficial to all stakeholders," said Xu Chengbin, vice director of the Research Center of China International Engineering Consulting Corp. (CIEEC). "The Gu'an project, which combines overall development with professional operations and city-industry integration, not only benefits the local people but also advances sustainable development."
Thus, the project coincides with the people-first principle for successful PPP models, noted Xu who is also an expert in drafting PPP international standards at UNECE.
Gu'an New Industry City is located 50 kilometers south from the center of Beijing. Before the project started in 2002, it had a population of 380,000 and was one of the poorest counties in Hebei province with a per capita GDP of around US$1,000.
Today, the county's population has climbed to 500,000 with a per capita GDP exceeding US$7,300 and is among the top 3 most competitive counties in the province.
Bruno de Cazalet, member of the UNECE PPP Business Advisory Board (BAB), recognized that the Gu'an New Industry City is a magnificent PPP project.
Back in April 2016, Geoffrey Hamilton, chief of the PPP programme at UNECE, said that the Gu'an New Industry City is aligned with the UN's goal of poverty reduction and common prosperity. During his inspection tour to the new city, Hamilton recognized the project's role in improving local education and healthcare and said that the new city is a model of people-first sustainable development.
China Fortune Land Development Co.Ltd (CFLD), the developer and operator behind the Gu'an project, has explored the PPP model that deals with planning and design, land consolidation, infrastructure development, public facilities construction, industrial development and city operation to improve the overall competitiveness and attractiveness of relatively small towns.
Today, the Gu'an model has been widely replicated. New Industry Cities built by CFLD have been established across 13 provinces in China and extended to six other countries.