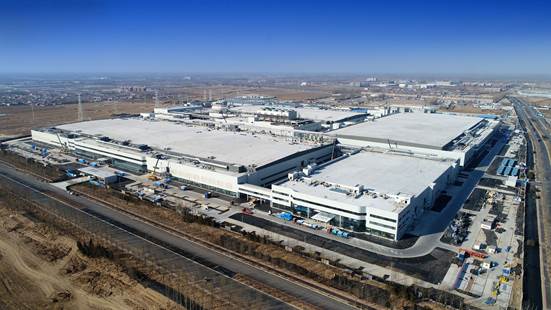 China's first production line for the 6th generation flexible AMOLED (active-matrix organic light-emitting diode) screen was launched by the panel maker Visionox in Gu'an New Industry City, Hebei province, on May 17.

The Gu'an-based company said the new setup has a monthly capacity of 30,000 panels, setting it apart from other production and technology monopolies.
With more perks than OLED, AMOLED is the next-generation display technology used in smart devices like mobile phones, laptops, televisions and watches. Compared to its predecessors, AMOLED features excellent color performance, ultra-fast response speed, is ultra-thin, has low temperature resistance and ultra-low power consumption.
It is also suitable for flexible display, transparent display, VR and other application scenarios.
Visionox is one of China's first OLED developers and manufacturers with over 3,500 patents related to display technology, said Dr. Zhang Deqiang, president of the company.
Founded in 2001, Visionox is able to produce curved displays, full-screen displays, as well as foldable and flexible screens.
The Gu'an New Industry City, where top screen makers like Visionox and BOE have comprehensive setups, is aiming to become a large-scale industry cluster for panel manufacturing and a demonstration zone for emerging industries in Hebei Province, said Zhao Wei, executive president of China Fortune Land Development Co. Ltd (CFLD), developer and operator of the new industry city.
Zhao explained that CFLD have established a multi-tier innovative platform system, synergizing efforts from incubators, schools, enterprise cooperation platforms, and research institutions to accelerate the application of scientific technologies into commercial use in the new industry city.