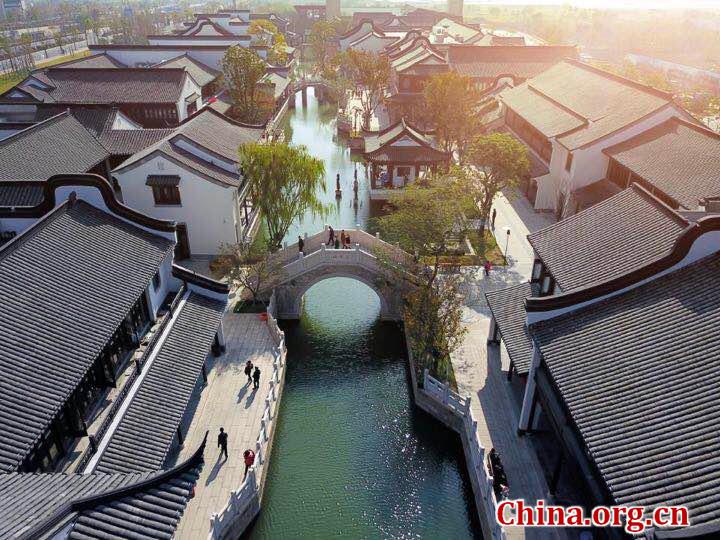 In April 2013, the government of Jiashan, a small county in East China's Zhejiang province, handed a piece of land to the industrial zone operator China Fortune Land Development (CFLD). Both parties envisioned the construction of a livable new city with booming industry and a clean environment.

Five years later, their blueprint has in large part been accomplished, and the new city continues to thrive, through CFLD's flagship public-private partnership (PPP) model.
Unlike other realty developers, CFLD's model for developing and running the new city is focused on long-term urban growth.
The small town is located in eastern China's Zhejiang province, Jiashan county, an area once known as "the land of fish and rice." Now, after being built from the ground up and following five years of expansion, the town is on course to become a new regional hub for technological research and development, software development, information, film and television media, as well as trade and commerce.
Most of the supporting facilities of the new city have also been put into operation, including service centers for talent recruitment, companies, parks, road networks, apartment buildings, shopping centers, hospitals and schools, CFLD said.
After the PPP project was rolled into effect, CFLD invited top local and international consulting and planning agencies like McKinsey, AECOM and Regal Lloyds to build a conceptual urban strategy for the new industry city.
Jiashan's vicinity to the troika powering China's prosperous Yangtze River Delta—Shanghai (80 km), Hangzhou (95 km), and Suzhou (90 km)—gives it unique advantages to develop and thrive, especially with industrial restructuring and urbanization on the agenda.
The sprawling transportation network around Jiashan (including a high-speed rail, two expressways, two national highways, four major international airports and three major international cargo ports) also gives the new industry city a geographical advantage, as it is involved in the Yangtze River Delta and in the division of labor in the surrounding city cluster, explained Zhao Hongjing, co-president of CFLD.
"Based on easy transportation and scientific planning from our top consulting partners, we are striving to build the new city in a space with clean environment, deep cultural substance and convenient facilities," Zhao explained.
To date, approximately 200 enterprises have established operations in the new city, attracting almost 300 talented personnel with master's or PhD degrees.
CFLD's expertise in building new industry towns near larger metropolises originated at the turn of the century in Hebei province's Gu'an, which has been transformed from an unknown town dominated by small scale agriculture to a center of general prosperity powered by advanced manufacturing.
Recently, the Gu'an case was touted by the United Nations Economic Commission for Europe (UNECE) as a successful model for sustainable development.
Compared to Gu'an, Jiashan has a relatively stronger economic foundation and will be able to deliver faster socioeconomic benefits, Zhao said.
"The more developed the region is, the more it thirsts for advanced industries," he stated. "With one of the largest investment solicitation and service teams with 4,600 people, as well as an advanced innovation incubator, CFLD can attract leading enterprises into the area, form an industrial cluster and facilitate the region's sustainable development."
During an event marking the fifth anniversary of the new industry city on May 27, the Jiashan government announced that a total of 35 new major programs will begin operations in the city, ranging from urban infrastructure and road building to industry and people's livelihood.
UISEE, a Beijing-based unicorn company in self-driving technologies, products and services, is among those that are going to set up production facilities in Jiashan.
The company's co-founder, Wu Gansha, said that strong support from the local government, quality service from CFLD, as well as solid industrial conditions are some of the key factors in having chosen Jiashan New Industry City.
Today, CFLD's PPP model has been scaled up to 80 new industry cities across China and extended to six other countries.