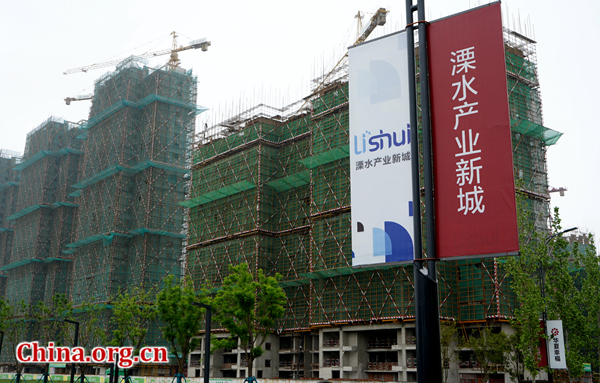 China Fortune Land Development (CFLD, 600340.SH), a leading Chinese real estate development and management conglomerate, recently announced a major strategic repositioning to better align its development with the country's new urban development guidelines.

Seizing fresh opportunities created by the new policy and mapping out a new development plan
In a letter to its shareholders released alongside CFLD's 2018 Annual Report, CFLD stated that it will develop its business along the metropolitan areas, continue strengthening its business in New Industry Cities, and explore new fields, new models and new regions of development.
Metropolitan areas are regions in city clusters which encircle a big city and are within an hour's commute from the city.
This repositioning is in line with China's recently released urban development plan. According to the guidelines released on Feb. 21 this year by China's top economic planner, the National Development and Reform Commission (NDRC), China aims to build several metropolitan areas with global influence by 2035.
The CFLD was keenly aware of this opportunity and decided that since the growth of metropolitan areas will be a future trend, it will reorientate itself to focus on it. Research results by the company's Industry Research Institute show that in future, two-thirds of the urban population will be concentrated in the core metropolitan areas, and the total economic output of these areas will account for half that of the entire country. While considering urban renewal opportunities, these new types of real estate along with New Industry Cities in metropolitan areas will become strategic priorities for CFLD's future development.
Success in existing New Industry Cities leads to roll-out of similar concepts nationwide
During its reporting period, CFLD has accelerated its pace in replicating its New Industry City business model. While continuing to consolidate the model's advantages in the Beijing-Tianjin-Hebei region, the company rolled out its New Industry City model nationwide. All the newly developed New Industry Cities in 2018 are located outside the greater Beijing area. As of the end of 2018, the total number of CFLD's New Industry Cities reached 77, which covered 15 core metropolitan areas.
Statistics in the annual report show that in 2018, CFLD increased the revenue of areas outside the greater Beijing area by 83% year-over-year, which accounted for 31% of the total revenue. Among those areas, the Hangzhou, Nanjing, Zhengzhou, Wuhan, and Hefei metropolitan areas contributed the most to the revenue of areas outside the greater Beijing area. Their revenues increased by 190%, 51%, 1388%, 370%, and 124% respectively.
According to its annual report, 66 of CFLD's New Industry Cities have signed industrial projects, 48 have achieved cash returns, 20 have accumulated net cash flow, and 29 New Industry Cities have signed PPP agreements.
New fields, new models and new regions of development
According to the CFLD's 2018 Annual Report, the company optimized its organizational structure, increased its revenue and reduced expenditures. By the end of 2018, the company's debt structure had improved with the proportion of interest-bearing debt due within one year reduced from 31% to 19%. Its financial situation is now much more solid.
The CFLD noted three new trends in China's real estate sector—the springing up of metropolitan areas in spatial planning, the requirements for refined operations and the financialization of the real estate industry. As a result, it decided to expand in new fields, build new models and create new regions of development based on its assessment of the industry's future needs and trends.
The company decided that it will adopt a new model that integrates both light and heavy assets, while optimizing its structure of assets and liabilities. The CFLD also worked to diversify its financing channels in 2018. To date, its credit line has reached 368.3 billion yuan, 60.5 billion yuan of which has been utilized and 307.8 billion yuan of which remains. Additionally, CFLD has gradually narrowed the net cash flow gap, which has been positive for the three consecutive quarters following the second quarter of 2018.
The company will also further expand its fields of operation while pushing forward its New Industry City business model. It will diversify its business mix of commercial real estate and related mid- to high-end residential business, such as office buildings and malls, as well as explore new types of real estate businesses such as those in the areas of healthcare and long-term rental apartments.
CFLD announced that it will prioritize development of the core areas of China's five most promising metropolitan areas, the Beijing-Tianjin-Hebei Region, the Yangtze River Delta Region, the Pearl River Delta Region, the Guangdong-Hong Kong-Macao Greater Bay Area, as well as the central China region with Wuhan at its core, and the west China region with Chengdu at its core. The company plans to quickly access the high-quality resources through multiple channels such as urban renewal, transit-oriented development (TOD), and mergers and acquisitions.