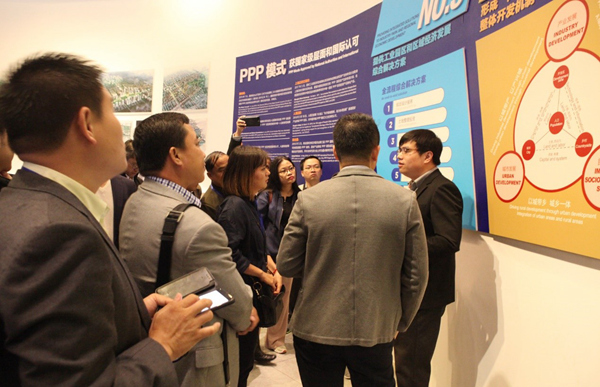 A China-Cambodia training course focusing on the practice of the Public-Private Partnership (PPP) model in China, was held in Beijing from May 6 to 10. A total of 30 senior officials from the Ministry of Economy and Finance and other ministries of Cambodia participated in the training.

The training was co-sponsored by China's Asia-Pacific Finance and Development Institute, The China Public Private Partnerships Center, and the Economics and Finance Institute under the Ministry of Economy and Finance of Cambodia. The aim was to share with Cambodia China's achievements and experience in developing the PPP model in recent years. In addition to theoretical study, participants visited the Gu'an New Industry City PPP project in Hebei province's Gu'an County on May 8.
The Gu'an New Industry City PPP project has been constructed and is operated by the People's Government of Gu'an County together with China Fortune Land Development Co., Ltd. (CFLD) since 2002, and was included into the Ministry of Finance's PPP demonstration projects in 2015. In 2018, it was listed by the United Nations Economic Commission for Europe (UNECE) among 60 cases of sustainable PPP development around the world.
At the Gu'an Museum of Urban Planning, the trainees received a comprehensive understanding of the achievements of the PPP project at Gu'an New Industry City over the past 17 years, particularly in regards to the development principles of industry-driven city growth, development and integration of industries within cities, and integration of urban and rural areas. The participants also had an in-depth exchange with an authority on the New Industry City PPP Model and CFLD's experience in building industry clusters.
The participants also visited the production line of Visionox's 6th-generation active-matrix organic light emitting diode (AMOLED), the Satellite Navigation Industrial Park and Gu'an Peptide Valley Biomedical Science Park. From the visit the participants got a close look at these three 100-billion-yuan industry clusters related to new types of displays, aerospace and biomedical products.

The participants expressed amazement at the development of the Gu'an New Industry City and said the PPP model is useful to Cambodia as a reference in their development of industrial parks, especially the mutual trust relationship that has been established between the CFLD and the government.