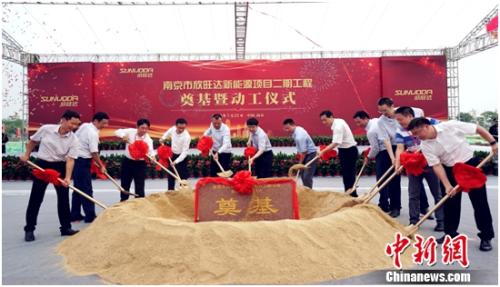 The second-phase construction of a large EV battery production base, jointly developed by China Fortune Land Development (CFLD) and Sunwoda Electric Vehicle Battery, was launched in Lishui of Nanjing city, Jiangsu province, on Monday.

Costing an estimated 12 billion yuan ($1.74 billion), the compound will be the first production base with an annual production capacity of 30GWh in eastern China.
"It will be a landmark project in local development of new-type auto industry," said CFLD executive president Zhao Wei.
Divided into three phases, construction of the project started on March 27. When completed, it will enable Sunwoda, a global leader in the lithium-ion battery industry, to further increase its production capacity to dominate the market.
Sunwoda has already rapidly expanded this year, requiring additional space for its growing production demands.
To address Sunwoda's needs, CFLD has pooled all available resources to accelerate the construction of the production base.
In the following phase, the company will continue to offer sound service to Sunwoda, and build an industrial cluster in Lishui to help achieve local development plan, Zhao pledged.