China's Ministry of Health (MOH) Monday called on the public to fight against A/H1N1 flu as its risk is rising amid recent cases of group infection.
Mao Qun'an, deputy director of the MOH general office, said universities, schools and nurseries should formulate plans to guard against A/H1N1 flu outbreaks after the Autumn semester starts in September.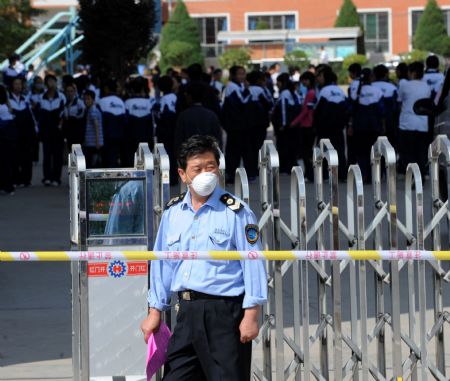 A health official guards at the entrance of a middle school in Lanzhou, capital of northwest China's Gansu Province, Aug. 31, 2009. A/H1N1 flu cases broked out in the middle school there since Aug. 28, and the confirmed infected patients grew to 26 till 3 pm Aug. 30.
On Sunday, a senior high school in central China's Henan Province reported 80 confirmed cases of the flu. On the same day, a junior high school in northwestern Gansu Province reported 26 cases.
Mao said schools should test students' body temperatures every morning and daily report results to health authorities even if no cases were found.
He also urged organizations and companies to "pay close attention" to the health of their staff.
"In regions where the situation is serious, organizations should reduce unnecessary cross-border movements or inter-provincial trips and avoid gathering," he said.
Local health departments should improve surveillance work and speed up the preparation and operation of supervisory hospitals and laboratories, Mao said.
Vice Health Minister Yin Li has emphasized the importance of vaccination. "Local health departments should organize vulnerable groups for inoculation when A/H1N1 flu vaccination regulations are issued," he said Monday.
The Ministry of Education has called on schools across the country to step up food safety supervision and efforts to prevent A/H1N1 flu during the Autumn semester.
All schools must conduct thorough cleaning before or after the beginning of the new semester, and should make sure drinking water provided was up to standard, the ministry said.
It ordered schools to provide education on prevention of A/H1N1flu in accordance with a notice issued by the education ministry two weeks ago, in which it ordered schools to quarantine students, if necessary, to curb the flu spreading.
The schools were also entitled to downsize classes and even reschedule the start of the semester.
Students who have close contact with A/H1N1 influenza patients are required to be quarantined at home for at least seven days and will be allowed to go back to school only if they show no flu symptoms.
The Chinese mainland had reported 3,757 A/H1N1 flu cases by Monday, 86.5 percent of which had recovered, the ministry said.
Globally, the disease had killed nearly 2,000 people and infected more than 180,000. It is circulating in more than 170 countries.
(Xinhua News Agency September 1, 2009)