The booming live-streaming industry offers money-making opportunities to many ordinary Chinese people. A popular female anchor named "northeastern narcissus sister-in-law", however, saw her road to fame and fortune end in police handcuffs.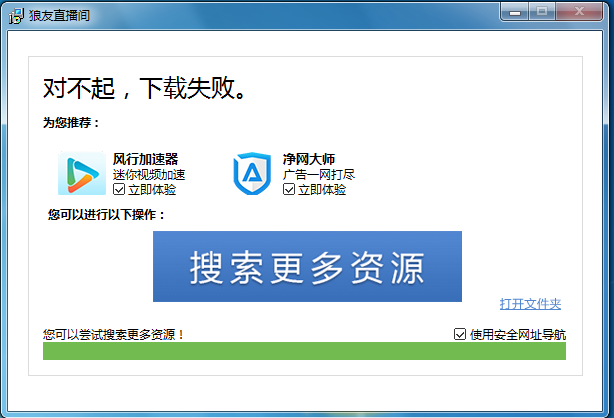 The "Langyou" live-streaming platform is unavailable now. [Screenshot]
The young woman had enjoyed widespread popularity online by giving obscene performances on the "Langyou" platform. The live-streaming app recruited over 1,000 female presenters and sold pornographic content to 177,000 registered users for more than 10 million yuan (US$1.51 million).
The break-up of this channel promoting pornography is a major progress in China's latest ongoing campaign to purify the online environment.
Appealing users by porn performances
In June, some netizens reported to the police that the "Langyou" platform was spreading indecent content. The National Office Against Pornographic and Illegal Publications took it seriously and organized an investigation.
According to the investigation, a large number of female presenters broadcast live pornographic performances on the platform, receiving fees and virtual gifts from users. The live-streaming app, which was available in both Android and iOS operating systems, produced and spread more than two billion pornographic videos.
To probe deeper into this "especially serious" case, the police went to many provinces including Guangdong, Sichuan, Shandong, Hunan, Heilongjiang, Zhejiang to collect evidence.
This revealed it was a cross-province crime in cyberspace. A technological company in Yueyang, Hunan province, operated the platform, while another company in Shanghai provided broadcast and storage solutions. The server of the system was in Ningbo, Zhejiang, but the maintenance staff were in the neighboring city of Hangzhou. The suspects built a live-streaming network with registered users across the country.
Repeatedly changing platforms to avoid punishment
Live-streaming anchors earn a living mainly through soliciting "virtual gifts" which the audience buy with real money. Some anchors make use of their sex appeal to encourage such gift-giving, and the platforms indulge the illegal conduct to rack up views.
To avoid being punished, the suspects repeatedly changed platforms. Within 30 days, the "Langyou" platform was upgraded for times, and its domain name and download address were changed for over 10 times. In addition, online porn performers registered with fake information and applied for bank accounts using other people's ID.
Many of the porn viewers are teenagers. Tong Lihua, director of Beijing Children's Legal Aid and Research Center said pornographic live-streaming was "a tumor of cyberspace". It undermined teenagers' physical and mental health, and induced them to commit crimes.
Taking multiple measures to combat online pornography
The Chinese government is determined to remove this particular tumor. In its crackdown on online pornography this year, dozens of live-streaming platforms have been shut down.
The internet has become a major channel of spreading pornographic content, said Xue Songyan, deputy chief of the National Office Against Pornographic and Illegal Publications. Although a majority of the platforms have not been operating very long, they have made a lot of money and had adverse social impact.
The governmental departments, internet enterprises and professional organizations should work together to exercise cyberspace regulation, Tong Lihua added.
The National Office Against Pornographic and Illegal Publications and the Cyberspace Administration of China have established a long-term joint conference system covering central governmental departments as well as internet regulators at provincial and municipal level.
Website operators around the country are exercising around-the-clock supervision and intensifying their content censorship. A "blacklist" system and a notification mechanism have been established, barring anchors who violated regulations from the livestreaming industry.
"We will maintain a tough stance on online pornography, thoroughly investigating the cases and severely punishing violators," Xue Songyan said.