You may have heard of the Singles' Day, the biggest day for online shopping in China. With much less fanfare, a celebration of something less materialistic gets underway almost one month after the frenzy.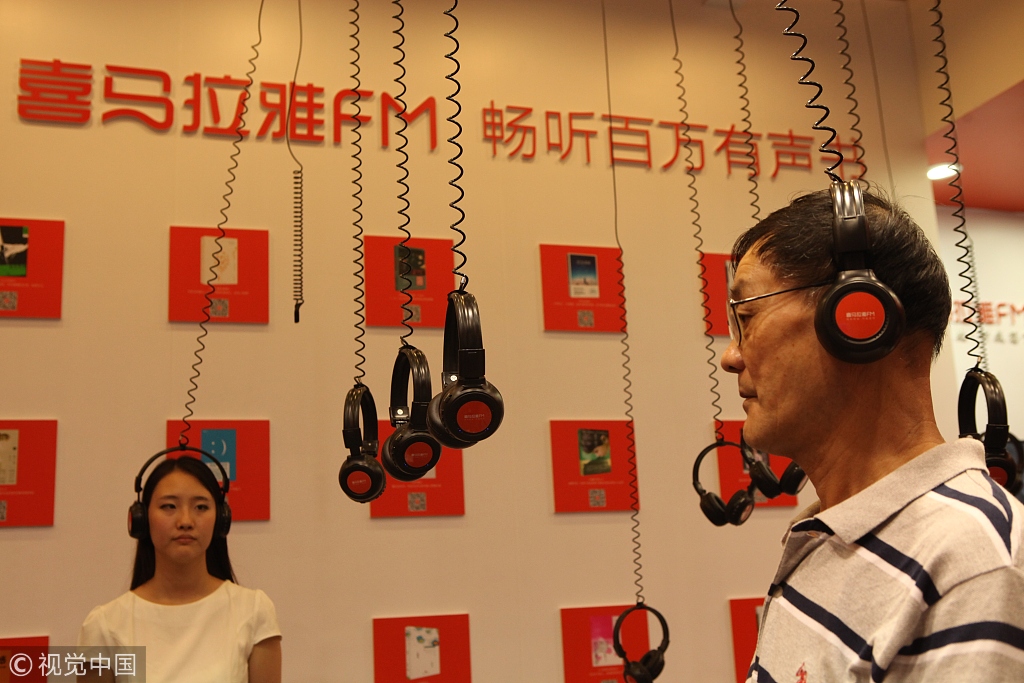 Ximalaya FM held a "show" of audio books during Shanghai Book Fair in June, 2015. [Photo credit: VCG]
In 2016, Ximalaya (pronounced as "Himalaya") FM, a leading Chinese app offering audio content, held the first annual Carnival of Knowledge on Dec. 3. App-wide discounts were up for grabs on the day, with customers shelling out 50 million yuan, or US$7.6 million, on knowledge content within the app.
This year, the Carnival of Knowledge began on Dec. 1 and raked in the same amount by 11:00 a.m. that day. It's still a negligible sum compared with the Singles' day, which totaled 168 billion yuan, or US$25 billion this year, but paying for knowledge may become a popular way for people to enrich themselves.
The best example of the audio programs offered on Ximalaya is The Art of Communication, the first program that has gone viral on the platform. Bite-sized, strategically targeted, and inexpensive, the series took in more than 10 million yuan over the first ten 10 days since it went online in June last year.
Each of the program's episodes is typically under 10 minutes, dealing with topics that aimed at office workers, such as "What to say if you want to quit?" "How to ask for a raise?" and "How to solve an impasse during a negotiation?"
For the answers to those tricky questions, you don't have to break your bank. For 198 yuan, about US$30, you can have access to 260 episodes where communication experts help you become a more rounded conversationalist, in your office and beyond.
An abundance of topics help Ximalaya FW keep its 400 million users hooked. Featured programs on Ximalaya FM teach subscribers about classic Chinese philosophy and literature, practical psychology, business and finance, IT and science, English learning, and simply how to earn more money.
Those programs are not equally liked, of course. According to the sales rankings of last year's Carnival of Knowledge, the best-selling category was "personal growth," which posted more than double the subscription revenue of the second-placed category of "humanities."
The same preferences are seen across the pay-for-knowledge market in China.
The desire for self-improvement, especially in terms of one's career, is lucrative. According to a survey by Alibaba, by the end of June this year, there were 50 million subscribers to paid knowledge in China, most of whom were born in the 1990s. The same survey projects that the value of the paid knowledge market will reach 50 billion yuan, or US$7.6 billion by the end of this year.
The Carnival of Knowledge, and by extension the idea of paying for knowledge packaged for people anxious about their self-worth is not without its doubters, who argue that the knowledge offered by apps like Ximalaya, in its highly distilled form, is as nutritious as fast food and unlikely to provoke any thoughts or reflections on a deeper and meaningful level.
Still, knowledge content that is easy to absorb and tailor-made for questions from real life could help the subscriber stay with a program even in a hectic schedule. The habit to acquire knowledge thus cultivated, which could be more rewarding than what one remembers from one episode, calls for unreserved celebration.