A joint counterterrorism drill of China and Russia concluded on Wednesday in Yinchuan, Ningxia Hui autonomous region.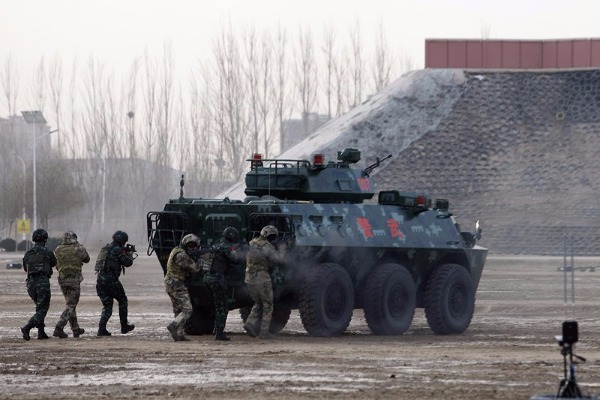 Chinese Armed Police officers and their Russian counterparts participate in a counterterrorism drill in Yinchuan, Ningxia Hui autonomous region, on Wednesday. [Wang Tao/For China Daily]
The drill, featuring cooperation between China's Armed Police Force and the Russian National Guard, began on Dec 2 and included training activities at APF bases in Yinchuan.
Thirty-two members of the APF's Desert Fox commando unit, an anti-terrorist assault force, and 32 of their Russian peers from the Vityaz and Rys, units of the country's National Guard, took part in a host of exercises. The Chinese side also sent helicopters and armed assault vehicles.
During the drill, Chinese and Russian officers practiced a wide range of exercises including hand-to-hand combat, firearms, defusing explosives, speed-rappelling from helicopters, rescuing hostages, raiding buildings and tracking terrorists. They also exchanged strategies, tactics, maneuvers and experience, according to publicity officers from the APF.
"It has extensively strengthened the joint operation and anti-terrorist combat capabilities of officers from both sides and enabled us to work closer to crack down on terrorists and safeguard regional stability," said General Wang Ning, commander of the APF.
A lieutenant colonel of Russia's Vityaz special forces unit who identified himself as Bazhenov said that compared with previous joint counterterrorism drills by the two countries, this one was closer to real battlefield situations and would be more helpful in gauging and enhancing troops' operational capabilities.
Dubbed Cooperation 2017, the drill was the fourth between law enforcement agencies from China and Russia. The previous three drills were held in Moscow in 2007, in Beijing in 2013 and in July 2016, again in Moscow.
The two countries have also conducted six joint naval exercises since 2012, most recently from July to September. Currently, they are carrying out their second joint computer-assisted, missile-defense drill in Beijing. The first was held in Russia in May last year.