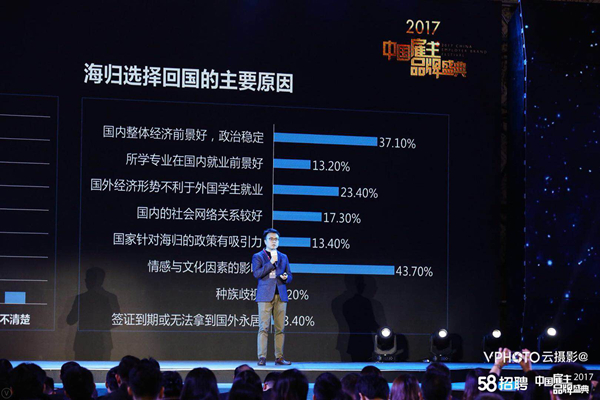 Chinese classifieds giant 58 Group presents a report at the 2017 China Employer Brand Festival in Beijing on Dec. 14, 2017. [Photo provided to China.org.cn]
Over 70 percent of overseas Chinese students choose to return home for work after studying abroad and one of the main reasons for coming back lies in their confidence in the country's economy, according to a report presented at the 2017 China Employer Brand Festival held in Beijing on Thursday.
The report was compiled by Chinese classifieds giant 58 Group and delivered by Senior Vice President He Mingke at the event, which gathered representatives from famous companies across the city.
He said, more Chinese students are returning as they believe China has a brighter economic future compared to other countries and feel culturally and emotionally attached to the country.
The prospective returnees also said they can take advantage of the social networks in their hometowns, making it easier to achieve success in their careers.
China's economy is projected to grow by 6.5 percent in 2018, while global growth is expected to remain at 3 percent, according to a recent United Nations report on the world economy.
58 Group, known as "China's Craigslist" with a focus on job recruitment, also surveyed overseas Chinese students about the "best employers" in their eyes. The survey result shows that renowned companies, including Baidu, FAW-Volkswagen, CRRC Corporation, Alibaba and Haier, made the top 10 list.
Overseas returnees with expertise in areas such as artificial intelligence, big data, computer science, finance and industrial design are more favored by the domestic market, the report also noted.
58 Group says it is stepping up efforts on its overseas recruitment platform ChinaHR.com to attract human resources abroad to work for Chinese employers. "We will help recruit more excellent talents to facilitate Chinese companies' overseas expansion," He told the audience.
58 Group is China's largest classified site, covering areas such as real estate, employment, second-hand goods, cars, pets and business directories. In 2015, it acquired the hiring website ChinaHR.com to consolidate its recruitment business.