The rapid development of industries related to big data, smart cities and artificial intelligence in Hengqin, located in the city of Zhuhai in southern China's Guangdong province, makes the 106-square-kilometer coastal island a magnet for high-end talent.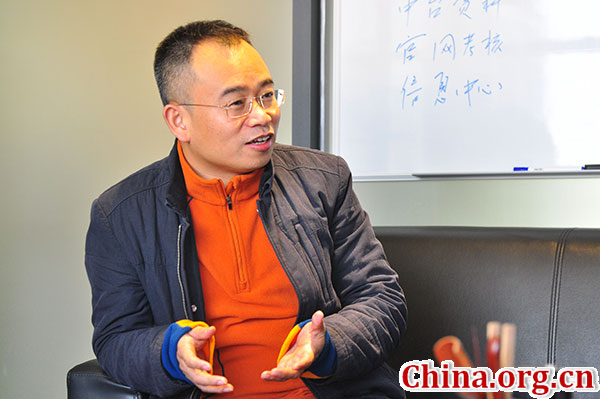 Deng Lianbing, the head of the postdoctoral office of Hengqin, receives an interview by China.org.cn. [Photo by Huang Shan/China.org.cn]
At least, this is the hope of Deng Lianbing. Deng is the head of the postdoctoral office of Hengqin, which recently hosted an academic forum themed on artificial intelligence for doctoral graduates in the island district.

Deng, who is also the executive director and general-manager of Zhuhai Da Hengqin Technology Development Co. Ltd, kept busy during the event, but felt more excited than tired.
Hengqin will witness explosive growth in the artificial intelligence sector in three to five years, Deng believed, as Hengqin emphasizes big data integration and lays a solid foundation for the rise of AI technologies
The Chinese central government decided to support the development of Hengqin in 2009. It has been earmarked as a national "new development zone" and is part of the pilot free-trade zone in Guangdong.
Deng is one of the pioneers firmly believing in Hengqin's future and taking part in the construction on the islet, which enjoys the support of state policies as well as the unique strengths of its geographic position -- in the center of the Pearl River mouth with Hong Kong and Macao on either side.
He thought that Hengqin, like a blank sheet of paper, is better positioned for the development of new technologies, such as artificial intelligence and smart cities than more established urban centers, where the integration with old infrastructure is not easy work.
In the foreseeable future, Deng believed Hengqin will marshal large numbers of high-end enterprises and professionals, who will be the main consumers of AI products. He also believed the implementation of AI technologies will see significant potential in areas like city management, public services and consumption.
To make that happen, Deng emphasized that the Hengqin government will spare no effort in breaking data barriers to form a unified big-data platform, or a "data lake," so as to provide high-quality and unified-standard information resources for the implementation of AI.
The government will provide the necessary funding and encourage people to utilize AI technologies.
Deng predicted that AI will be as common in 10 years as WeChat payment is today. The implementation of AI will inevitably incur some pain among certain groups and industries, he admitted, but actively responding to change is a way to advance social progress.
The company Deng works for is engaged in the businesses of information, telecommunication, security and protection, and smart building, among other areas. Since its founding in 2014, the company has obtained more than 30 patents in big data, intelligent robots, wearable equipment and more.
"We will move on to integrate big data with AI, and promote the application of AI in Hengqin. It will strengthen our connection and cooperation with relevant enterprises and talents. We can solve the problems together in the lab," Deng said.
"It is impossible for AI to solve all problems. We need to solve the problems in the process of using it, and make the innovation, research and development of technologies more demand-oriented."
Deng thought that the integration of AI with the real economy will happen step by step. As AI is first expected to show its strengths in the agriculture, manufacturing and service sectors in the near future, these will be prospective markets.
The company is the only one of its kind affiliated with the Hengqin government. As the executor of the plan for building Hengqin into a "smart city," and as required by China's State Council, the company has hosted the National Postdoctoral Academic Forum for two consecutive years, themed on big data and artificial intelligence respectively.
"We had the future in mind when choosing the forum themes. Relevant technologies develop extremely fast. China has come to a virtuous cycle in its technology development," Deng said.
However, he admitted that the lack of skilled workers is the biggest obstacle preventing Hengqin from making breakthroughs in AI.
According to Deng, Hengqin will pay special attention next year to attracting talent not only from China but also around the world through preferential policies, postdoctoral platforms and cooperation with partners in Hong Kong and Macao.
Deng hoped the postdoctoral forum can enhance Hengqin's brand and popularity in circles of scholars and researchers as an opportunity to exchange ideas, work together and help them materialize their dreams.
"I hope that the forum can serve as a bridge connecting Hengqin with the world in the long run, and the forum can be recognized as an effective communication channel by researchers and scholars from overseas," said Deng.
Deng regarded the postdoctoral research programs as a pivot to Hengqin to help it make breakthroughs in pursuing innovation-driven development. He believed Hengqin has the potential to become a pilot zone of national talent management reform, demonstrating talent cooperation between Guangdong, Hong Kong and Macao.
He welcomed skilled professionals from around the world to visit Hengqin, "an island of opportunities and a promising future," offering platforms for them to realize their aspirations.