Before joining the massive open online courses (MOOC) provider CCTalk, Corey and Cici DiCicco combined to have eight years experiences as schoolteachers, and they taught about 3,000 students over that time.
In the half year since starting at CCTalk, the couple has become stars on the site, with over 5,000 students registering for their courses.
They are among an increasing number of teachers in China hopping on the tech bandwagon and bringing virtual classrooms right to students' computers and mobile devices.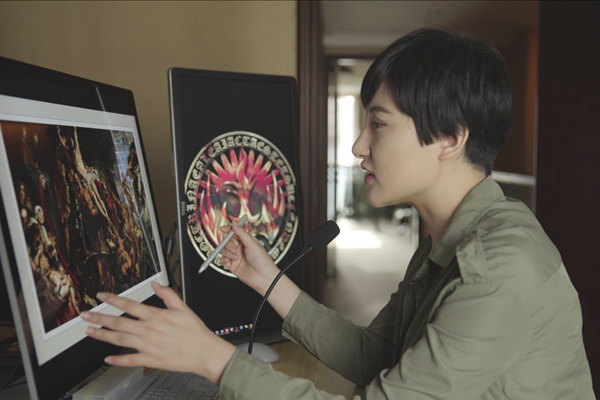 A teacher live streams painting courses online. [Photo provided to China.org.cn]
With powerful technologies at their fingertips, the teachers can simulate a classroom on an interactive online environment. The teachers or hosts can share their screen with students and write on a virtual whiteboard, thus creating an engaging, in-the-moment learning experience.
Along the way, they are earning more money than previously thought possible.
"Many teachers on our platform can earn as much as 3 million yuan (US$454,000) a year, and some teams can even gain a staggering 30 million yuan through interactive teaching," said Kong Wei, president of CCtalk.
In comparison, a teacher at an elite public school in Shanghai earns an average of 10,000 yuan a month, and a teacher at a private education institution earns an average of 30,000 yuan a month, according to an earlier report by China Daily.
Similar to other MOOC providers like Coursera and Udemy, CCtalk enables teachers to either post entire videos on its platform or live stream their courses with a mobile phone or a personal computer – a more popular method with the platform's subscribers.
The platform has been in operation for over a year, and it has attracted over 30,000 independent teachers. They teacher a wide variety of courses on CCTalk, ranging from extensive programs like language learning and vocational training, and to skills and hobbies like playing the ukulele and drawing cartoon pictures.
Learners also came in droves: CCtalk boasts over 10 million subscribed users.
According to figures released by the China Internet Network Information Center (CNNIC), the country's online streaming users registered at 343 million in June, accounting for 45.6 percent of its total online population.
Like in other live streaming applications, millennials in e-learning platforms account for largest share of the paid users.
"People have already gotten used to and are willing to pay for subscribed materials online," said Arnold Fu, founder and CEO of Hujiang EdTech, CCTalk's parent company. This is a sea change from the previous generation, which has fueled the online education boom.
According to a report by Analysis, China's internet big data analysis provider, the country's online education market will surge to 371.8 billion yuan by 2019 as online and traditional resources and customers continue to merge.
CCTalk's Kong said another positive aspect of online learning is that it can facilitate education development in a fairer and more equitable way, distributing quality educational resources evenly to China's remote and rural areas via e-courses.
Kong said she is proud of the free public welfare courses CCtalk providing to rural schools. Since the program launched two years ago, it has benefited over 1 million students in 3,000 elementary and secondary schools across China.