In a freezing chamber in the Nanjing Women and Children Health Hospital lay several sealed jars of eggs enveloped in liquid-nitrogen in a temperature of minus 196 degrees Celsius.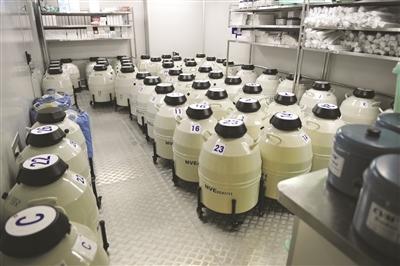 Despite the egg cell's succulent nature, fragile and sensitive to the external conditions, like, temperature and light, the mastery of the freezing technology has facilitated their preservation and form an essential element in enabling infertile families to deliver babies.
However, with China's loosening family-planning policy allowing a second child, the demand of the frozen preserved eggs has, so far, exceeded the supply.
According to Ling Xiufeng, doctor and director of the reproductive department of the hospital, two years ago, more than 100 people visited her to seek frozen eggs, meaning a possible wait of four to five years; now, it could be eight or nine years.
The country's current stringent rules on such eggs, have actually prevented the establishment of massive egg banks, which consequently drives people desiring reproduction to search for solutions in overseas markets.
Zhang Jie, a woman of 30 years old, became infertile after an illness. Still eager to have a baby, she asked for an egg donation from hospitals, only to be told she would have to wait about 10 years.
She had no option but to hunt for operations of test-tube babies in the overseas market.
In China, women who may lose their fertility because of undertaking high-risk work or suffering deadly illnesses, can get their eggs frozen beforehand, but the service is confined only to those who are married.
Typical is Qi Min, 29, who was diagnosed with breast cancer, though in the early stage, at the time when she had married and was preparing to have a baby. However, the necessary chemotherapy following surgery threatened to make that impossible, so she chose to freeze her eggs before the treatment.
Besides, there are some women aged around 50, who lost their only child for some reason, who are also seeking egg donations, in hope that their children's short-lived lives can reincarnate in new birth.
China has banned commercialized egg supply in any form or through any organizations, and egg donations are restricted to the extra eggs only collected after the operation of test-tube babies.
However, after the implementation of the second child policy, the number of donors willing to share their eggs is declining sharply. With little choice, some women opt for eggs obtained on the black market.
However, a doctor wishing to remain anonymous said the business in the illegal markets was highly hazardous.
An over 50-year-old woman conceived twins after she had lost her single child and sought eggs in black market. The seemingly successful deal claimed both her and her twins' lives during her pregnancy, the doctor warned.