Progress on the largest-ever radio telescope meant to keep an eye on the cosmos took an important step forward on Tuesday, with the first major prototype unveiled in China.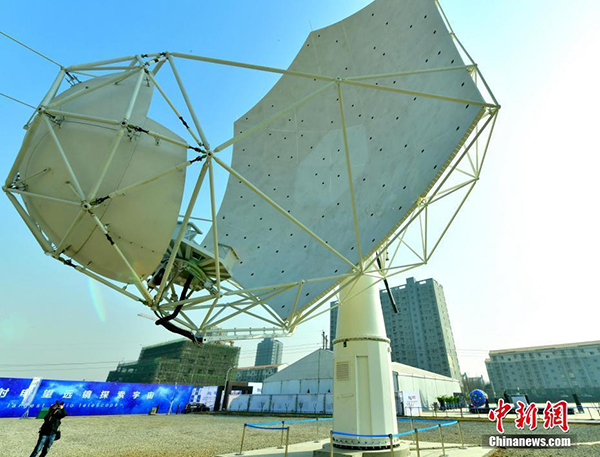 The reflector antenna prototype of the Square Kilometer Array, an ambitious scientific endeavor involving 10 nations including China, the United Kingdom and Australia, was developed and built by a multinational team and headed by China's Joint Laboratory for Radio Astronomy Technology.
The laboratory was formed by China Electronics Technology Group Corp's 54th Research Institute in Shijiazhuang, capital of Hebei province, and the National Astronomical Observatories in Beijing.
The prototype was shown to more than 100 government officials, diplomats and scientists from home and abroad at an inauguration ceremony held at the Shijiazhuang institute on Tuesday.
The successful development and production of the prototype marked the start of the first phase of the international mega-science project, which has been designed to enable scientists to answer some key questions about the universe such as the beginning of light radiation, the origins of life as well as the universe's composition and structure, said a statement published by the SKA China Office.
The antenna looks like an enlarged version of a domestic satellite dish used by television viewers, so it is popularly referred to as a "dish" by researchers. It consists of a main reflector, a sub-reflector, a support arm, a servo system and an operations platform.
Three antenna concepts were devised for consideration by experts and the China-led design, technically called a dual-offset Gregorian reflector antenna, was chosen by panelists at a meeting in November 2015. It has a height of 21 meters, a weight of 42 metric tons and a service life of 50 years, and features a high level of sensitivity, accuracy and reliability. It is also lightweight and not prohibitively costly, the statement said.
According to the SKA Organization headquartered in Cheshire, UK, the SKA is not a single radio telescope, but a collection of various types of antennae called an array, and is spread over long distances with up to one square kilometer in total collecting surface area. Upon completion, it will be the world's largest public science data project that will generate data at a rate more than 10 times today's global internet traffic.
The system's ultra large collecting area will give it 50 times the sensitivity and 10,000 times the survey speed of the best current-day telescopes-the Karl G. Jansky Very Large Array in New Mexico in the United States. These advantages will allow astronomers to probe the universe in unprecedented detail.
Philip Diamond, director-general of the SKA Organization, explained that radio telescope networks need to have a huge collecting area because signals emitted from celestial bodies are very weak so that a large number of individual antennae are required to work together to detect and then amplify those signals.
The SKA instruments will mainly be located in two countries-South Africa and Australia. Eight other African nations including Botswana, Ghana and Kenya will also have the system's components.
Diamond said the SKA Organization hopes that nations involved in the project would approve and start to fund it in 2019.
Liu Liehong, general manager of China Electronics Technology Group Corp, said the SKA project integrates some of the most advanced technologies and will be tasked with exploring several paramount scientific issues such as the formation and evolution of planets and the distribution of dark matter and dark energy. It will also help scientists verify Einstein's theory of relativity, he added.