It was a Friday, during the five-minute countdown from the last class when pupils are required to study by themselves, and Lin Meiyuan - sitting at the back of the classroom, anxiously waiting to pack up her backpack - dashed out the moment the bell rang.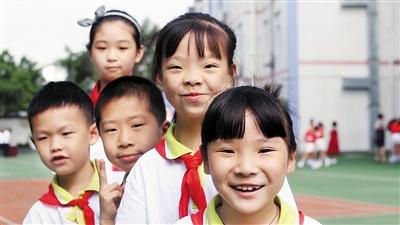 She was heading to the bus station to embark on a three-hour trip that would include three transfers, bound for her mother's home in Zhucheng, Chongqing municipality.
Despite the long journey, the girl said some of her happiest hours were spent en route, anticipating the reunion with her mother.
Lin has been a boarding student at the Third Xipeng Primary School, located in the municipality's outlying Xipeng county of Jiulongpo district, since the age of six.
Like millions of other children from migrant families, Lin had to separate from her parents, despite her mother's determination to keep the girl at her side until Lin graduated from the kindergarten and entered elementary school.
When gaining admission to local primary schools in Zhucheng proved impossible, the mother had no choice but to send her daughter to the boarding school in Xipeng, where Lin's grandparents live.
In 2012, Lin became one of the school's 200 boarding students, one third of the student body overall.
In her dormitory, Lin and her five roommates are required to get up at 6:10 a.m. and go to bed at 8:30 p.m. Older students, who are more familiar with the school's rules and principles, are encouraged to offer a hand to the younger ones.
Six years on, Lin has grown from a newcomer to a senior student. Every morning, she gets up soon after the morning call, makes her bed, gets dressed, brushes her teeth, washes her face, sweeps the floor, and wakes up her younger roommates.
Despite being a veteran student, Lin can still be brought to tears by the weeping of a homesick classmate, which in turn causes others in the room to sob, unable to hold back their pain any longer.
Lin's mother had supposed her daughter would adjust to her new surroundings and no longer cry by the end of her first month at the school, just like she did when she was in kindergarten. But she was wrong.
Though they have little time to talk after the sumptuous dinner Lin's mother cooks on Friday nights, and not much communication on weekends when the mother is working overtime, Lin still feels greatly attached to her mother, and can't help but weep silently each time she returns back to school alone.
The Third Xipeng Primary School has opened a multimedia classroom for "left-behind" pupils to contact their families via video chat. However, a teacher from the school, speaking on the condition of anonymity, said the best communication remains the daily presence of parents.
"A mother told me she was heartbroken every time when she made a phone call to her child, who told her that they had nothing to talk about," the teacher said.
Though the mother said all her efforts were made in pursuit of a better life for her child, their prolonged separation has created a distance between the two, the teacher explained.
Fortunately, from 2012 to 2016, the number of left-behind children across the country showed signs of decline, as the size diminished by more than 5 million. At the Third Xipeng Primary School, the number of boarding students has shrunk from 200 in 2010 to 45.
China's State Council issued a circular in 2016 to tackle the problem of left-behind children, attempting to bring as many as possible under the guardianship of their parents and to leave no children under the age of 16, especially those from the remotest and least developed areas, to grow up alone. At the same time, local communities are required to oversee and ensure the growth and education of left-behind children.
At 12 years old, Lin says her biggest dream now is to be admitted to the Longshan Secondary School in Zhucheng, located not far from her mother's home.