China has seen a widespread plunge in temperature as the country observes Major Snow - one of the 24 solar terms of the lunar calendar.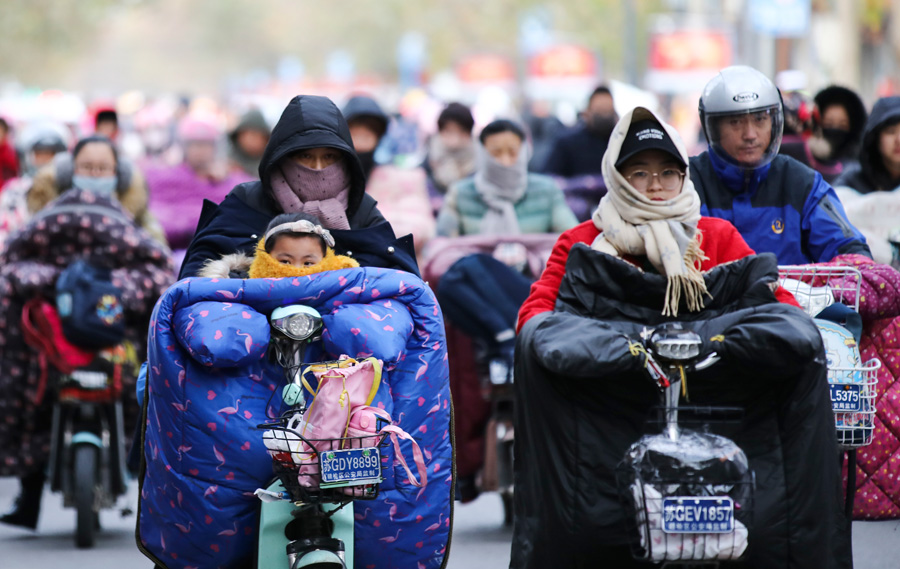 People brave the cold in Lianyungang, Jiangsu province, on Friday-a day oddly enough during Major Snow, one of the 24 solar terms of the lunar calendar. [Photo by Si Wei/For China Daily]
Major Snow, the 21st solar term, falls between Dec 7 and Dec 21 this year. During the period, the snow becomes heavy and begins to accumulate on the ground, and the temperature drops significantly.

The temperature in Beijing hit its lowest this winter at-8 C on Friday morning, according to www.weather.com.cn, a news portal for the China Meteorological Administration.
The freezing temperature is coupled with strong winds during the daytime, making it one of the capital's coldest Major Snows in almost 70 years, according to the administration.
The Beijing meteorological center had issued a blue alert on Thursday for continuous low temperatures, which is expected to last until the weekend and could plunge below -10 C.
The mercury in most parts of North China's Hebei province also plunged to-10 C on Friday, and there was also a big drop in temperature in Northeast China's Liaoning province and East China's Shandong province on Friday morning, with the drop ranging from 6 to 10 C.
The freezing temperatures are not limited to the north.
The cold front has swept across most regions in southern China, bringing falling temperatures and strong winds on Friday. In some areas of the Guangxi Zhuang autonomous region, such as Nanning, the temperature has dropped by as much as 13.4 C. People who dressed in short-sleeve T-shirts on Thursday had to put on thick clothes, hats and masks on Friday.
Many parts in southern China embraced the first snowfall this winter on Friday, including the provinces of Anhui, Zhejiang, Jiangsu, Hunan and Hubei provinces in the middle and lower reaches of the Yangtze River.
Xie Tianci, who works in Shanghai, said it had been raining for days in the city before the temperature dropped to around freezing, and the situation was worse with winds.
"The season changed from autumn to winter overnight," Xie said. "I'm from Northwest China's Shaanxi province, and the temperatures in the humid south, though still above zero, are unbearable," he said.
The national meteorological authority forecast that the cold front will continue to push down the mercury in the next few days, and Hainan, China's southernmost province, is expected to see heavy rains over the weekend.
The observatory has urged the public to make necessary precautions against the upcoming weather changes. It also renewed a blue alert for the cold wave, the lowest warning on the country's four-tier weather warning ranking system.