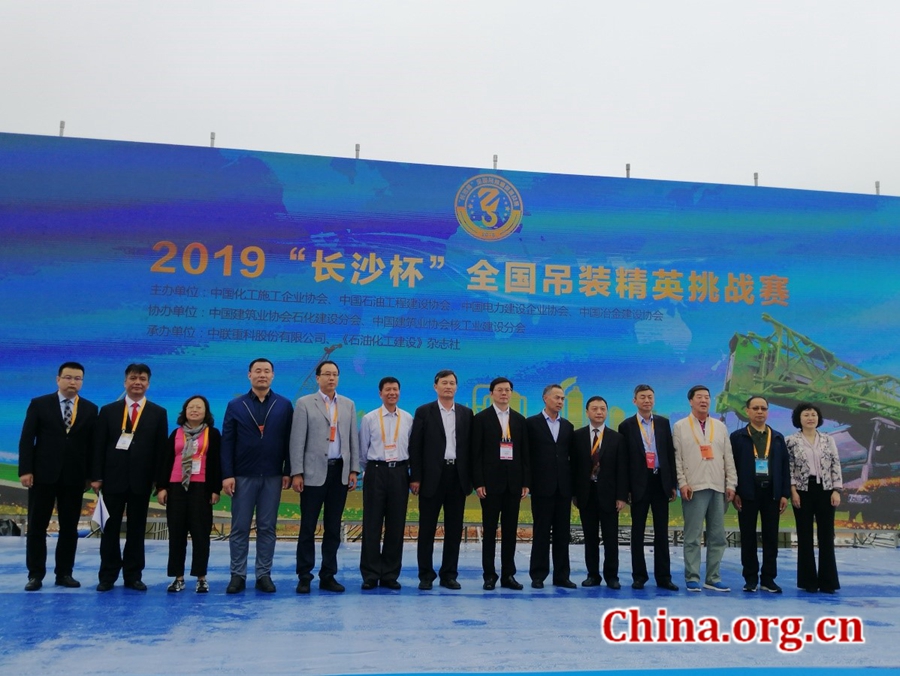 A two-day "Changsha Cup" hoisting contest of construction cranes kicked off in Changsha on Tuesday.
The competition was jointly organized by the China National Association of Chemical Construction Enterprises (CNACCE), the China Association of Petroleum Engineering Construction (CAPEC), the China Electronic Power Construction Association (CEPCA), and the China Metallurgical Construction Association (CMCA). Twenty-seven contestants from 14 hoisting enterprises competed.
Yu Jinbo, director of the contest organization committee and president of CNACCE, delivered the opening speech. Yu said 2019 is the promotional year of artisan spirit, and the contest acts as a platform for encouraging and promoting artisan spirit.
According to Yu, Zoomlionhas worked with Petroleum and Chemical Construction Magazine to prepare for and organize the contest. Zoomlion attended the contest with its latest 80-ton crane. Drawing support from 2019 Changsha International Construction Equipment Exhibition (CICEE 2019), the contest has gained wide attention, Yu added.
Wang Tize, vice secretary of the Changsha municipal government, and Luo Kai, vice president of Zoomlion Heavy Industry and Technology Development, each delivered a welcome speech.
The opening ceremony was also attended by Fu Danzhou, vice president of China Council for the Promotion of International Trade Hunan Sub-council (HNCCPIT), Yang Qingqian, former vice president of CMCA, Zheng Jianhua, vice president of CNACCE, and Li Guangyuan, vice secretary of CEPCA.
The contestants said they were thrilled to attend the highest-level hoisting contest of construction cranes, and that they will continuously improve their skills as well as inherit and advocate for artisan spirit in order to contribute to the hoisting industry.