The China Science Festival is back for the sixth time in Beijing, running from Saturday to Aug. 11. The China Soong Ching Ling Science and Culture Center for Young People, together with the Beijing Exhibition Center and Science Alliance Network, is bringing a variety of interactive, hands-on activities and exhibits for visitors.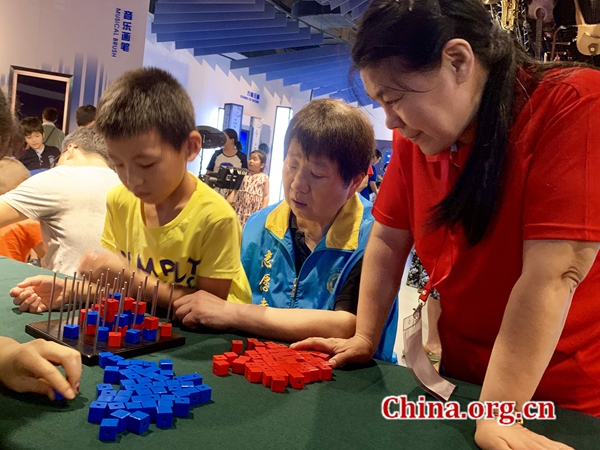 The nine-day event features 150 interactive exhibitions classified into seven themed zones. And there are also featured workshops and science shows from the U.K, Germany, Israel and Spain.
David G. Evans, a professor from the U.K. who has been working in Beijing University of Chemical Technology (BUCT) for more than 20 years, is hosting several interesting experiments for young children with the aid of a group of students from BUCT.
He explained to China.org.cn that the main aim was to convey a message that chemistry is all around us and chemistry is fun.
"The materials we are using during these experiments are daily materials because we want it to be safe, want children to realize actually chemistry is all around us. Everything in your home is chemical," he added.
Evans is also a fellow of the Royal Society of Chemistry (FRSC).
As the age span of the visitors ranges from four or five to teenagers, how to make all of them understand and become interested in these experiments is quite a task.
As a member of the BUCT Science Popularization Team, Evans shared his experience in designing these experiments.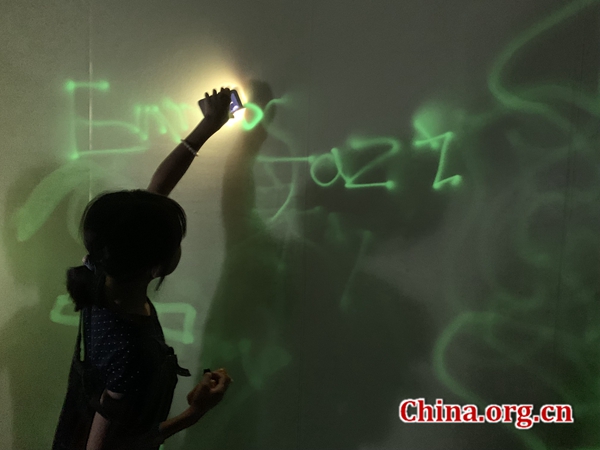 "The approach is very flexible. We will do the same experiment with children of different ages, but the way of explaining it will be different," he said. "For younger children, you need a much simpler explanation; if children have studied chemistry already, you can have more detailed explanations."
Having worked in China for so long, Evans now speaks fluent Chinese, which helps him to better communicate with the young people.
On the first day of the festival, most of the visitors were primary and secondary students with their parents.
Zhang Mengjie, a fourth-grader, tried The Magic Shadows experiment together with her mother. Her mother Jin Na told China.org.cn that it was their first time to attend such an activity.
"Our country is attaching great importance to science. My daughter's school has opened science class for them and Mengjie loves this class very much. So, I bring her here to broaden her mind and further arouse her interest."
During the festival, Big Van Science, a Spanish team, will perform Clowntifics, which is a clown show with a scientific element. Helena Gonzalez, a performer and trainer for Big Van Science, said it was their first time to perform in Beijing.
She said that their performance aims to show scientific methods and promote new scientific vocations.
"Through the show we want to explain physics, chemistry, and biology and most importantly, how scientific methods work," said Gonzalez, a Ph.D in biomedicine. "It is crucial for us that youngsters aged 5-7 get to know how science is built and how scientific methods work. Not only about how fine they do experiments, but also seeing science as the method that better explains reality.
"If they understand that science is something that explains the real world and it's not so difficult, some may consider a future science career," she added.