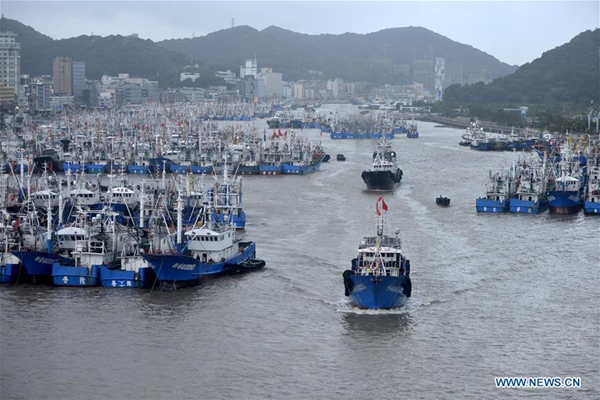 China's National Meteorological Center issued a red alert for Typhoon Lekima Friday morning, as it is expected to make landfall in the coastal areas of eastern China's Zhejiang Province Saturday.
At 8 a.m., the center of Typhoon Lekima, the ninth typhoon of the year, was about 290 km southeast of the city of Wenling in Zhejiang, with a maximum wind force of 209 km per hour.
The typhoon will move northwest at a speed of about 13 km per hour, with gradually weakening force, the center said, adding that it will land in the coastal areas in Zhejiang Province Saturday morning.
At 8:00 a.m. Friday, Zhejiang Province renewed its emergency response to level II, the second-highest. The province has suspended ferry rides in Beiji island, a tourist attraction to the east of the coast, and evacuated over 200 tourists there.
At 9:00 a.m., eastern China's Jiangsu Province raised its emergency response to level III, according to the provincial flood control and drought relief headquarters.
China has a four-level emergency response system for disaster relief, with level IV being the lowest and level I the highest.
From Friday to Saturday, Lekima is expected to bring heavy rain to provinces of Anhui, Fujian, Jiangsu and Zhejiang, and the municipality of Shanghai.
China has a four-tier color-coded system for severe weather, with red representing the most serious, followed by orange, yellow and blue.