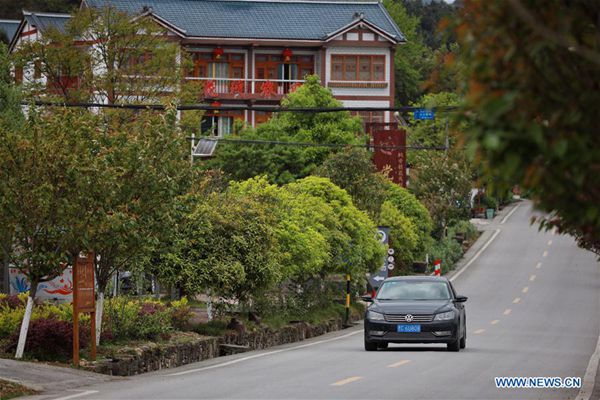 Building a beautiful village
Since President Xi's visit, the local government and villagers in Huamao have got a clearer idea about how to lift the village out of poverty. Papermaking and ceramic crafts are the symbols of Huamao, which could strengthen the cultural identity of the village, thereby raising its profile and boosting tourism.
In recent years, Huamao has been committed to building a beautiful village, tapping into its intrinsic beauty and unique culture to attract tourists. The measures included revamping dwellings featured with an ethnic lifestyle, setting up solar-powered streetlights, and planting trees, resulting in great improvements to the local environment.
With the improved environment, Huamao village began receiving an increasing number of tourists who come to experience rural culture. At present, the village runs a total of 42 homestays and 10 agriculture-experiencing farm stays, attracting more than 1.5 million tourists every year, up from 100,000 in the past.
However, despite those who prospered through developing rural tourism or traditional craftsmanship, there remained a number of villagers who relied on agriculture for a living.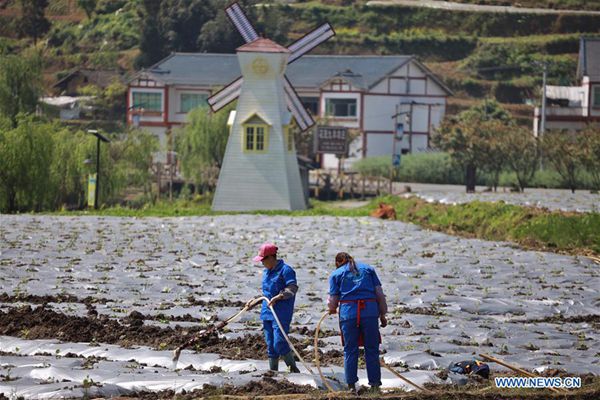 The village thus established rural cooperatives that turn various smaller agricultural businesses into a large-scale collective industry. One such cooperative covers an area of 100 hectares of land, creating nearly 1,000 jobs for the locals.
So far, the annual income of local villagers has exceeded 17,000 yuan, increasing over 30% compared to that of 2014. And the 78 households registered as living under the poverty line in 2014 have all been lifted out of poverty.
"Currently, there are only about 300 villagers working out of the province," Pan said regarding the big changes in the village. The First Secretary said that many migrant workers are choosing to come back because they could now either start their own business or find a decent job in Huamao village.