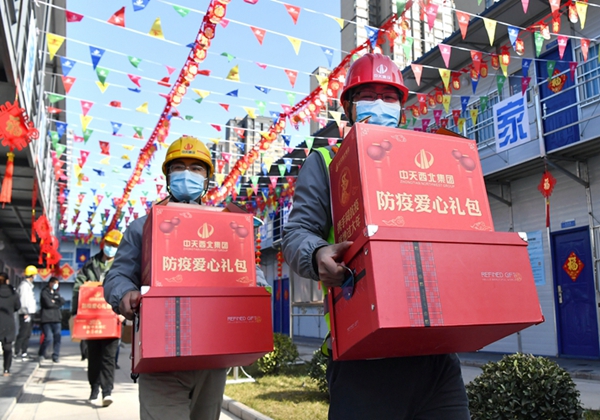 With the Chinese New Year a day away, Liang Rui, a young sales manager, has remained in Chongqing, the southwestern municipality where he works. But his gifts are already on their way to his parents living in the central province of Henan. In the parcel are bacon, sausages and other special treats for the festival unique to Chongqing.
Liang works for Freshippo, a fresh food retail platform owned by e-commerce giant Alibaba Group. In the four years since moving to Chongqing, he managed to follow the tradition of celebrating the festival for family reunion with his parents at his hometown every year. But this year is an exception.
This winter, with sporadic novel coronavirus disease (COVID-19) cases in provinces like Hebei and Heilongjiang, many places across the country have advised residents and migrant workers to stay put for the festival to curb the spread of the virus. Normally, the travel rush around the Chinese New Year, the largest annual human migration in the world, records hundreds of millions of passenger trips.
"On New Year's Eve and Day, I will stay at my post to ensure holiday supplies," Liang said.
Wan Qian, who currently lives in Beijing, also decided not to return to her hometown in the eastern province of Shandong for the festival. However, more than a week before the festival, she received gifts from her parents.
Wan told Beijing Review that after learning that she would spend the festival in Beijing in response to the government's call, her mother immediately sent her a huge bag of handmade steamed stuffed buns, and was packing some deep-fried meat balls, a local New Year delicacy, to send to her soon. "I think the buns my mother makes are the best in the world. They make me feel close to her," she said.
Wan's father, who works in Dazhou, Sichuan province in the southwest, also sent her local specialty food through express delivery service. "I took a bite of the bacon he sent. It is very delicious. Also, I fully understand all he wants to convey through the presents," she said.
Heart-warming support
Many people who were unable to return to their hometowns for the most important holiday of the year expressed care for their kin by mailing gifts.
Some also got subsidies and other forms of assistance for sending gifts from local governments and employers.
Xiao Fu has not visited her family in Sichuan since she started to work at a fashion group in Jiaxing, Zhejiang province in east China, several years ago. This year, she originally planned to go back for the family reunion, but later canceled the trip in response to the call for migrants to remain in their city of residence during the festival, according to local media portal Jiaxingren.com. She mailed gifts to her daughter living with grandparents in Sichuan, including snacks, clothes and a doll.
This holiday season in Xiuzhou, the district where she works, a migrant worker like Xiao could receive a 60-yuan ($9.3) subsidy from the local federation of trade unions for sending New Year gifts to family members in other places. The federation partnered with logistics company SF Express to pick up the parcels from enterprises with a large number of migrant workers.
Guangdong Guangqing Metal Technology Co. in Yangjiang, a city in Guangdong province in south China, covered the cost for every employee to send a parcel up to 5 kg. It also requested postal workers to come to its factories to collect the parcels.
Online shopping
While many people opted to mail gifts, others, youngsters in particular, chose to shop online and have their purchases delivered directly to their families.
To woo more customers, e-commerce platforms such as Taobao, Tmall, JD.com and Pinduoduo launched promotional events. Many express delivery companies said they would work during the holiday.
JD.com saw a surging number of orders placed in one location but sent to different destinations before the festival, according to JD Big Data Research Institute. In particular, the number of such orders placed by people in Dalian, Liaoning province in northeast China, soared by 219 percent year on year, Xinhua News Agency reported.
Data from Alibaba shows that during the promotional event on its online marketplace Tmall that started from January 20, the sales of some holiday supplies saw significant year-on-year growth, such as fast food and fitness products, as well as holiday attire for pets, window cleaning robots, tableware disinfectors and freeze-dried coffee powder.
IT professional Yuan Siqi in Hangzhou, capital of Zhejiang, told Beijing Review that regardless of whether she returns home, she buys New Year gifts online almost every year because having the gifts delivered directly saves her the trouble of carrying them.
This year, she bought local specialties, imported snacks, Lego toys, clothing and skincare products for her parents and other family members in Zhoukou, a city in Henan.
A survey by Internet search platform Baidu revealed that for those under 30, the favorite gifts to give to their parents are smart speakers, cleaning robots, massage chairs and foot massagers, in addition to mobile phones and skincare products.
Many live-streaming and short video-sharing platforms also vied to usher in the new year with a shopping bonanza.
Douyin's first Chinese New Year shopping carnival, from January 4 to 20, recorded 20.8 billion yuan ($3.2 billion) in sales, according to data released by the company on January 22.
During the promotion, clothing, jewelry and cosmetics sold most.
Zheng Jianpeng and his wife Yanzhen topped the salespersons' list, followed by Luo Yonghao, an entrepreneur-turned-live-streamer. The couple, an ex-singer and an ex-model from Guangdong, sold commodities worth more than 300 million yuan ($46.4 million) in 10 hours on January 8, while Luo's highest single-day sales during the event exceeded 200 million yuan ($30.9 million).
With the timely delivery of orders placed online, many gifts—along with the senders' best wishes—arrived at their destinations ahead of the biggest day of the year.