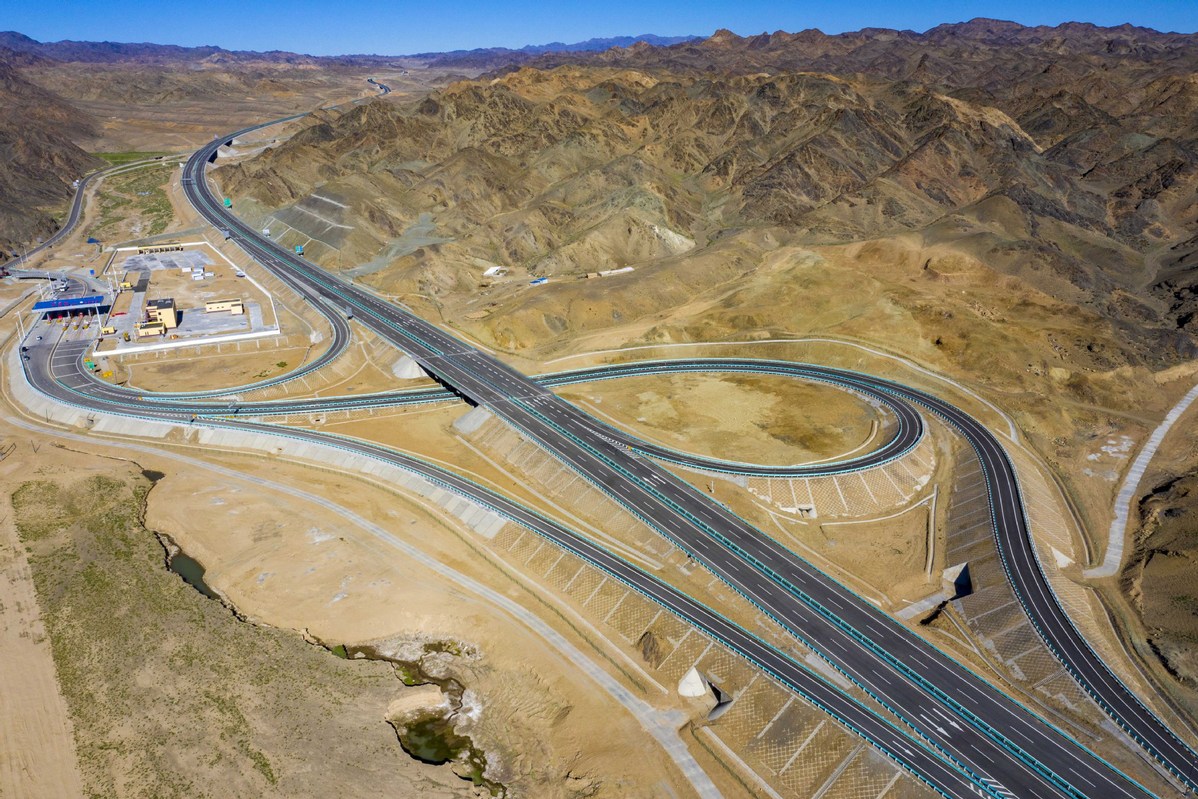 Aerial photo taken on June 28, 2021, shows a section of the Beijing-Urumqi Expressway in Kazak autonomous county of Barkol, Northwest China's Xinjiang Uygur autonomous region. The Beijing-Urumqi Expressway, the longest desert-crossing expressway in the world, fully opened to traffic on Wednesday after the last section of the route in Xinjiang Uygur autonomous region was put into operation. [Photo/Xinhua]
Road trip enthusiasts in China might want to start planning for a journey from Beijing to Urumqi via a newly opened expressway that will allow them to travel to the capital of Northwest China's Xinjiang Uygur autonomous region through the Gobi Desert and across mountains.
On Wednesday, the last section of the 2,822-kilometer Beijing-Xinjiang expressway opened to traffic, making the route fully operational.
The road passes through six provincial-level regions: Beijing, the provinces of Hebei, Shanxi and Gansu, and the Inner Mongolia and Xinjiang Uygur autonomous regions.
Crossing more than 500 kilometers of uninhabited desert, it is the longest desert expressway in the world and has been dubbed China's "Route 66", the national highway famous for its scenic views in the United States.
According to the Ministry of Transport, it is the second expressway to link the autonomous region with other parts of China, and cuts the driving distance between Urumqi and Beijing by 1,300 km, making it the fastest road passage across the northwestern, northern and northeastern parts of the country.
The route, numbered G7, is one of seven national expressways connecting Beijing with other major cities under the national expressway plan.
The Beijing section opened to traffic in 2014, while the Linbai section in Xinjiang and Inner Mongolia opened in 2017. Construction began on the last section in Xinjiang in 2019.
It will be one of the fastest of several existing Eurasian road and rail continental links, and has its eastern terminal in Tianjin and its western terminal in Rotterdam, Netherlands.
The G7 is expected to greatly boost communication and enhance social and economic development between Xinjiang and other parts of China, while playing an important role in the Belt and Road Initiative and the Western Development Plan, according to the ministry.
It is also the most convenient route from Khorgas dry port in Xinjiang to the Yellow Sea coastal port of Tianjin.
It is the first expressway to cross Xinjiang's Barkol Kazak autonomous county and Yiwu county, making travel in and out of those areas more convenient and bringing more business opportunities to local people.