The United Nations Children's Fund (UNICEF) on Tuesday called on the public to attend to the psychological well-being of adolescents.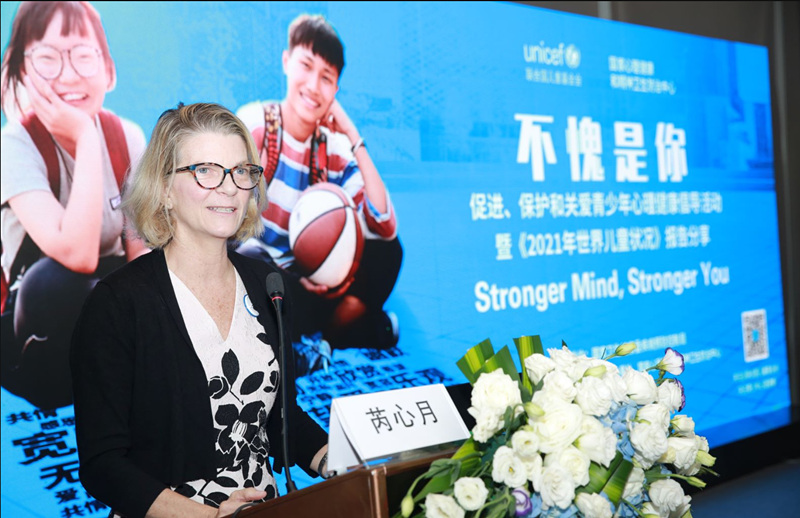 "We call on governments at all levels, relevant departments, schools, communities, health institutions, social organizations and other sectors to reinforce cooperation, and to jointly safeguard and promote the mental health of children and adolescents," said Zhang Shubin, deputy director of the Mental Health Division of the Bureau of Disease Prevention and Control under the National Health Commission.
Zhang made the remarks at an event co-hosted by the United Nations Children's Fund (UNICEF) China and China's National Center for Mental Health (NCMH) in Beijing on Tuesday. Representatives from the government, UN organizations, experts, sports celebrities and adolescents were present at the campaign named "Stronger Mind, Stronger You" to call on societies to listen to young people and to be committed to supporting their psychological well-being.
Cynthia McCaffrey, UNICEF representative to China, held that children's mental health is positively correlated with their capacity to learn, to work and to build meaningful relationships, and then ultimately to thrive. However, "13% of adolescents around the world are estimated to suffer mental disorders and an estimate of 46,000 adolescents die from suicide each year," Cynthia noted.
"One critical barrier is that of silence and stigma," Cynthia said, adding that everyone has a role to play in breaking the silence around mental health and reducing stigma. "Parents, teachers, peers, broadcasters, journalists and others need to create an environment where young people feel that it's safe to talk about their mental health."
"Young people's healthy development is the country's future and the nation's hope. Mental health is a blessing for hundreds of millions of families, and it lays a foundation for each young person's healthy growth and well-being," said Yao Hongwen, director general of NCMH. "Following the country's policy guidance, the center will keep a close watch on adolescents' mental well-being, and promote the development of their mental health."
Anuradha Narayan, chief of Child Health and Development Section of UNICEF China, introduced the main contents of UNICEF's annual flagship publication "The State of the World's Children" with this year's theme being "On My Mind: promoting, protecting and caring for children's mental health."
Anuradha explained the factors influencing children's mental health, including family, surrounding environments like schools, and social determinants such as poverty, gender and race. As for the protection of adolescents' mental health, Anuradha believed parents should play the key role. In addition, understanding and support from peers and communities, accessible and professional medical services, and cross-sector cooperation are effective means to help young people to foster a stronger mind.
Zheng Yi, professor with Beijing Anding Hospital, presented the mental health state of children in China, including factors negatively impacting children's psychological well-being, the age and gender distribution in terms of mental disorders, the shortage of medical resources for mental caring, and measures taken to promote children's mental health.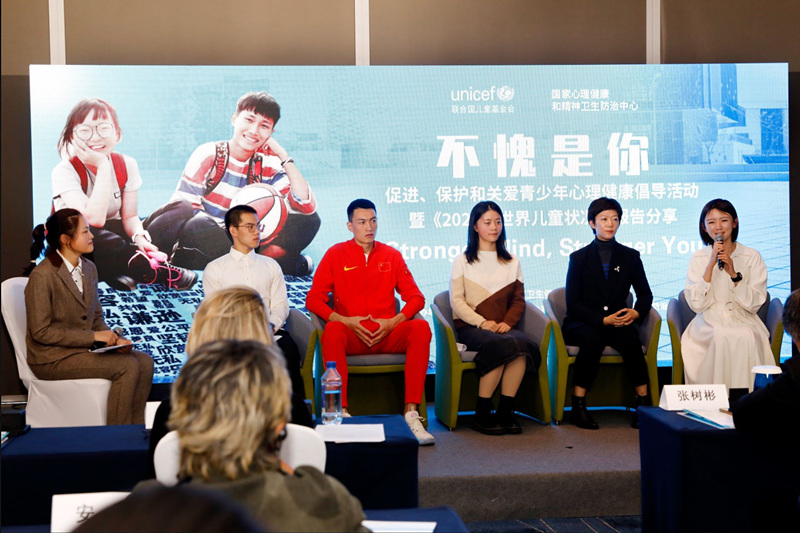 The event was concluded by singing the campaign's homonymic song co-created by four young people aged 16-20, to tell their peers that it's understandable and normal to have mental disorders and that they should be bold and seek support.