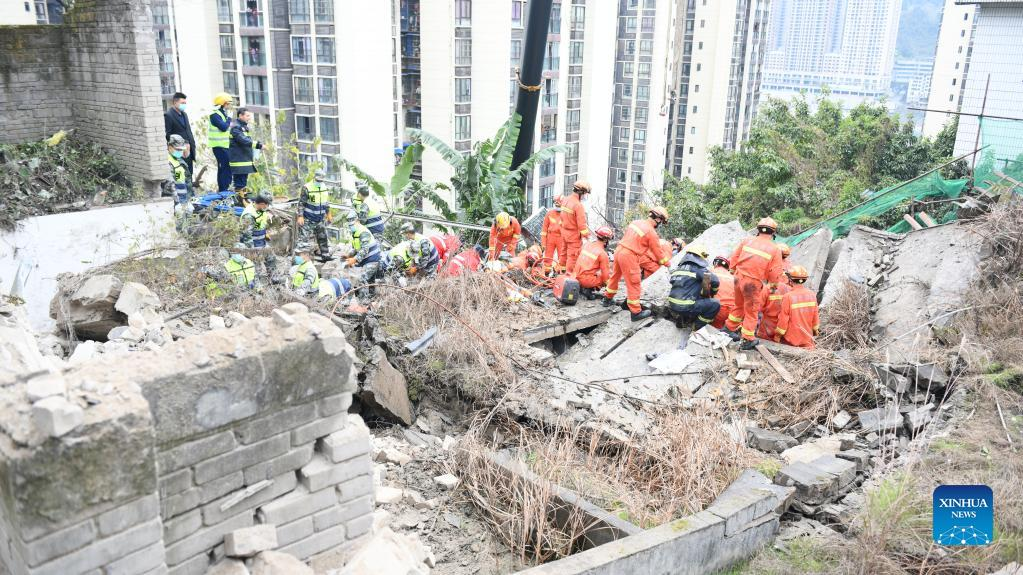 Sixteen people were killed and 10 injured, one critically, after a blast rocked a canteen of a subdistrict office in Wulong District, Southwest China's Chongqing municipality at noon Friday.
The accident took place at 12:10 pm as suspected gas leakage triggered the explosion and caused the collapse, trapping 26 people inside.
As of midnight, all the trapped have been pulled out of the debris. The injured are receiving treatment in hospital.
According to witnesses, people were having lunch in the canteen when the blast took place.
The cause of the accident is under further investigation.
On hearing of the accident, Chen Min'er, Chongqing's Party chief, and Hu Henghua, Chongqing's acting mayor, commanded related departments to search for and rescue the victims as soon as possible and to prevent secondary disasters, and rushed to the scene for command and dispatch work.
The local firefighting department rushed three teams comprising 260 rescue personnel in 50 vehicles. The Ministry of Emergency Management has sent working groups and experts, a mine rescue team and an engineering team comprising 60 people to the scene. Excavation and lifting equipment has also been sent.
The municipal government has set up an emergency unit at the spot, and 10 more teams are at their disposal to carry out rescue operations and provide medical treatment.
"I heard a huge bang, which was like an earthquake. Soon, dozens of rescue vehicles such as fire engines and ambulances arrived at the scene," said a staff member of a nearby shop, about 100 meters from the site of the incident, local media reported.
She said they were not affected much, but the windows of houses nearer to the site were shattered.