Scholars and experts at home and abroad joined a webinar on Thursday to explore Beijing 2022's Olympic spirit and global implications.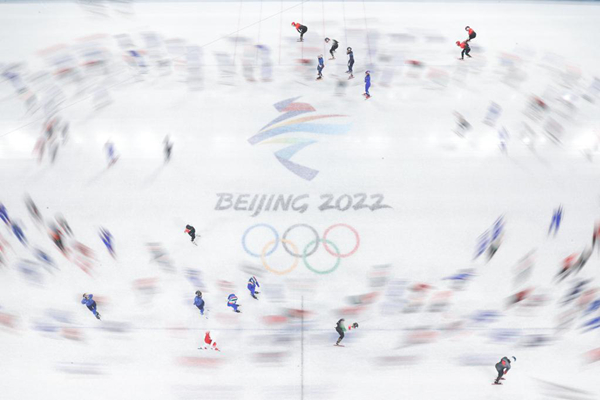 While building upon the spirit and legacy of the 2008 Summer Games, Beijing 2022 has explored new paths featuring carbon neutrality, massive participation, cultural integration and high efficiency, which sets a benchmark for future organization, said an expert on Thursday.
Xu Yongjun, professor at the School of Information Resources Management at Renmin University of China (RUC), shared his insights on the development of Beijing's concept for hosting the Olympics in 2008 and 2022.
The enrichment of Olympic visions over the past 14 years not only reflects China's deep understanding of the Olympic Agenda 2020 but also meets the needs of China's new development paradigm, Xu noted.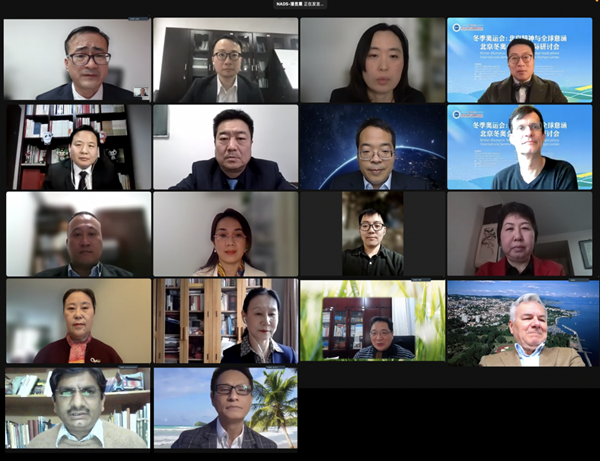 Compared with the 2008 Summer Games' vision of an "environmentally-friendly, tech-empowered and culture-enriched Olympics," Beijing 2022 has followed the "green, inclusive, open and clean" approach throughout its preparation process and managed to stage a simple, safe and splendid Games.
According to Xu, the vision of a green Olympics put more emphasis on low-carbon technologies, aiming to make the Winter Games an integral part of the environment and society. By hosting an inclusive Olympics, China has engaged 346 million people in winter sports and boosted regional coordination among the three competition zones. It also strengthens cooperation with international sports organizations and vows a zero-tolerance on doping and corruption, in a bid to ensure openness and cleanliness.
The green development, comprehensive COVID-19 countermeasures and athlete-centered organizing work of Beijing 2022 have offered Chinese solutions to future Olympic Games, Xu added.
Although the term "technology" was not mentioned in Beijing 2022's four approaches, it has become an indispensable tool for China to deliver its Olympic bid promises. According to Wang Zipu, head of the department of science and technology at the Capital University of Physical Education and Sports, 80 sci-tech research projects were established for Beijing 2022 and a total of 212 technologies have been applied during the Games.
If the 2008 Summer Games were meant to review China's history, then the 2022 Winter Games has established its future course for the world, Wang said.
Speaking on the legacy of Beijing 2022, Wei Na, a professor at the School of Public Administration and Policy at RUC, highlighted China's experience in organizing Olympic volunteers. Wei noted that China developed a set of institutional arrangements for volunteering that fit the country's actual condition, especially amid the pandemic and extreme weather events.
Beijing 2022 aims to engage more people in winter sports, improve their performance via competitive winter sports and ensure the operation of all Olympic venues after the Games, said Patrick Wing Chung Lau, professor at Hong Kong Baptist University, during the webinar.
Lau said that Beijing 2022 can be viewed as an opportunity to develop the local winter sports industry, promote healthier lifestyles, improve citizens' sense of responsibility, communicate Chinese culture with the rest of the world and boost the low-carbon economy.
"I believe that the 2022 Winter Games will carry forward the Olympic spirit of solidarity," Lau concluded.