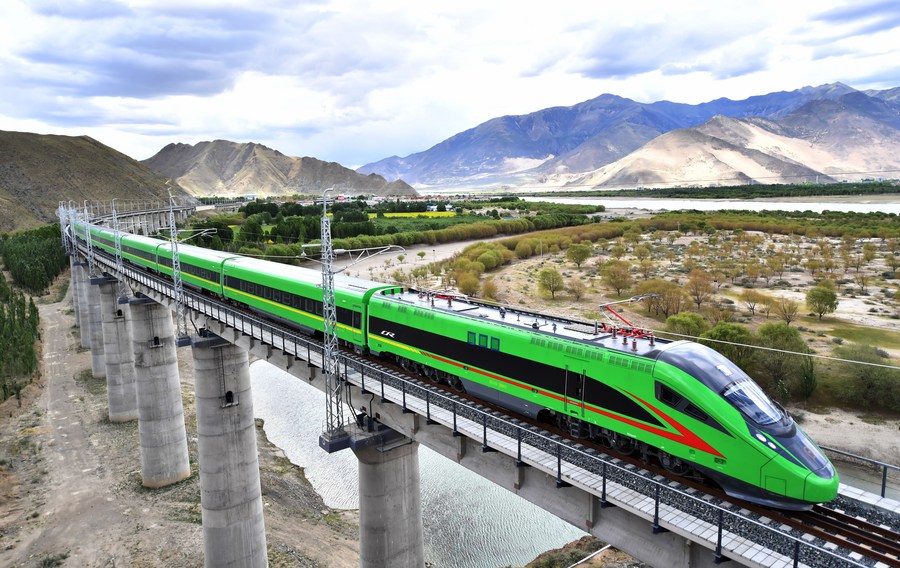 Trains on one of China's major high-speed rail lines will soon speed up as China rolls out its plan to further accelerate its already expeditious rail service.
Starting June 20, high-speed trains will be able to operate at the increased maximum speed of 350 kilometers per hour along the high-speed rail section linking Beijing and Wuhan, Hubei province, and part of the railway linking Beijing and Guangzhou, Guangdong province, according to China State Railway Group, the national train operator.
That will cut the travel time between Beijing and Wuhan to 3 hours and 48 minutes, a half-hour faster than now.
Last week, the test run on that section was a success, showing the viability of increasing the line's top speed from the current 310 km/h.
"It is a complicated project to operate bullet trains at 350 km/h, considering the technology, market, operating cost and environment," said Ye Yangsheng, China State Railway Group's chief engineer.
The Beijing-Guangzhou High-speed Railway opened in 2012 and was designed to run at 300 km/h to 350 km/h.
"This popular line has handled 1.6 billion trips, accumulating a large amount of safety operational experience," Ye said.
In order to increase the operating speed, the group upgraded the rail section, including rail tracks, bridges, tunnels, electricity system, communications and the disaster inspection system.
The test run thoroughly examined the section.
The line's other section linking Wuhan and Guangzhou opened in 2009 and operated at a maximum speed of 350 km/h from 2009 to 2011, but then reduced the top speed to 300 km/h.
The section had opened earlier and had more tunnels and bridges, so it is easily affected by the environment.
The railway will also offer more services to improve passengers' travel experience, such as quiet compartments and a flexible ticket price.
The top speed revision will cut travel time between the capital and many major cities to the south, such as Shijiazhuang in Hebei province, Zhengzhou in Henan province, Changsha in Hunan province and Chengdu in Sichuan province.
China has a network of more than 40,000 km of high-speed railways, ranking top in the world.