II. Development is comprehensively consolidated, and basic industries and infrastructure are strengthened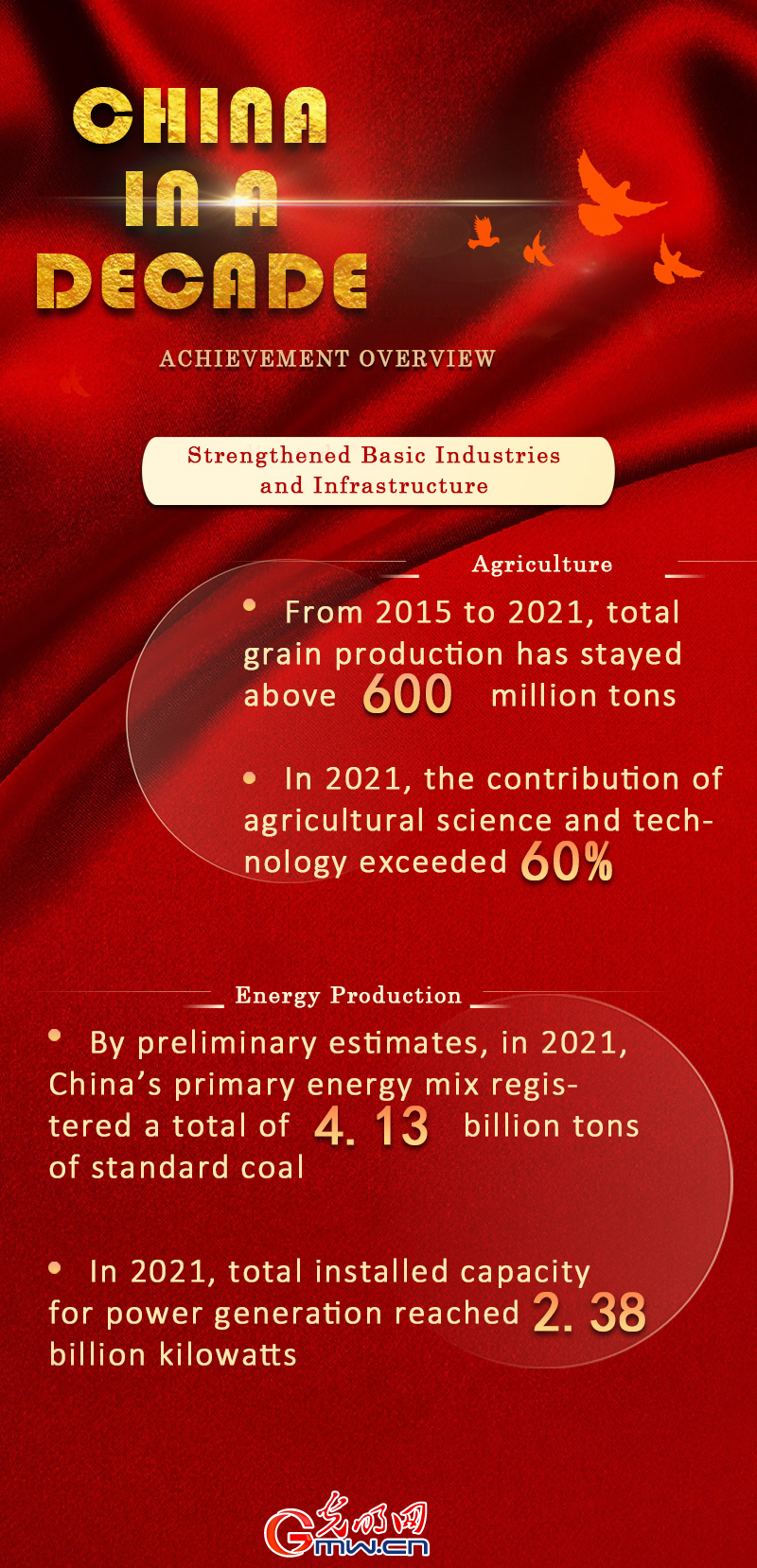 Agricultural foundation is further consolidated. With a series of agriculture-related policies, agricultural production has continued to improve, ensuring national food security and the supply of important agricultural products. In 2021, China's grain output exceeded 1.3657 trillion jins, an increase of 11.5% over 2012, and exceeding the 1.3 trillion jin mark for seven consecutive years. From 2015 to 2021, total cereal production has stayed above 600 million tons, ranking first in the world; the output of meat, fruits, peanuts, seed cotton, tea and other agricultural products ranked first in the world. Agriculture-related technological innovation and mechanization have accelerated. In 2021, the contribution of agricultural science and technology exceeded 60%, and the mechanization rate of crop cultivation, planting and harvesting exceeded 70%.
Energy production is steadily increasing. By preliminary estimates, in 2021, China's primary energy mix registered a total of 4.33 billion tons of standard coal, an increase of 23.2% over 2012, with an average annual growth rate of 2.3%. Among them, raw coal production hit 4.13 billion tons, an increase of 4.6% over 2012; natural gas production reached 207.6 billion cubic meters, an increase of 87.7%; crude oil production hit 198.88 million tons, maintaining a stable supply in general. 2021, total installed capacity for power generation reached 237.692 million kilowatts, an increase of 1.1 times over the end of 2012; the installed capacity of hydro, wind, solar power as well as the nuclear power under construction ranked first in the world, making China the global leader in non-fossil energy.