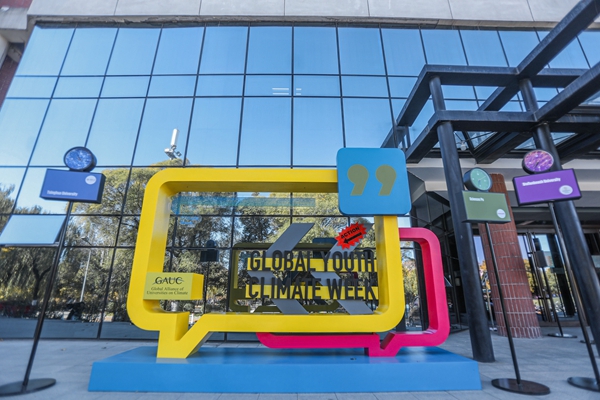 The Action Plan for Global Youth Development and Global Youth Climate Week kicked off at Tsinghua University on Oct. 31 under the auspices of the World Youth Development Forum and the Global Alliance of Universities on Climate (GAUC).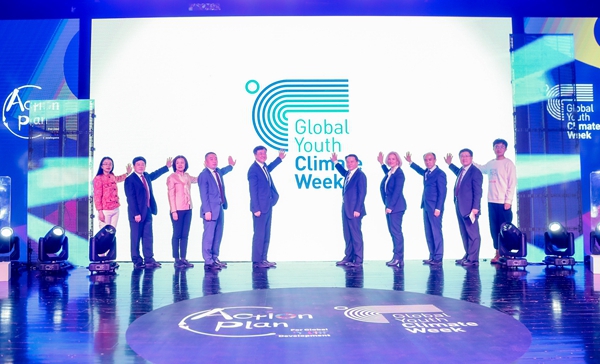 Over 100 institutions and organizations from six continents jointly launched the week-long event online, including UNESCO, Bloomberg, Rockefeller Foundation, and the UK Universities Climate Network.
Scheduled a week ahead of the annual UN Climate Change Conference, the climate week aims to build a mechanism for global climate governance by convening the actions of youth worldwide to help them voice their climate dedication and prepare them to take the lead in building a net-zero future for all.
Fu Zhenbang, vice president of the All-China Youth Federation (ACYF), noted at the launch ceremony that the event provides an international platform for youth to contribute to global development. He hoped that young people from all countries could share their wisdom and take action to help deliver the challenging priorities set in the United Nations 2030 Agenda for Sustainable Development and jointly deal with the uncertainties in global development.
Yang Bin, chairman of the Executive Committee of GAUC and vice president of Tsinghua University, emphasized how the event as a mechanism to convene youth climate actions to more concrete contributions for the progress of global climate governance. He added that youth, as the backbone of a net-zero future, are the inheritor, owner, creator, and leader of such a future.
Justine Coulson, United Nations Population Fund Representative to China, said that the action plan would enable young people to share their best practices to promote sustainable development and provide relevant training and exchange opportunities for young leaders worldwide.
Xie Zhenhua, China's special envoy for climate change, expressed his hope via video link that the climate week can be institutionalized to build momentum for the annual UN Climate Change Conference and make more innovative contributions so as to achieve carbon neutrality.
During the event, deputy secretary-general of ACYF Liu Kai explained the action plan, including its role, programs, and application requirements. The Global Youth Summit on Net-Zero Future, the flagship project of the event, was also introduced by GAUC Global Youth Ambassadors to present their interdisciplinary approach to the climate challenge.
Global Youth Climate Week was first proposed by GAUC to UNFCCC back in January 2022. The inaugural week, which will last for five days, featured a range of events that offered young people different perspectives on addressing the climate challenge.