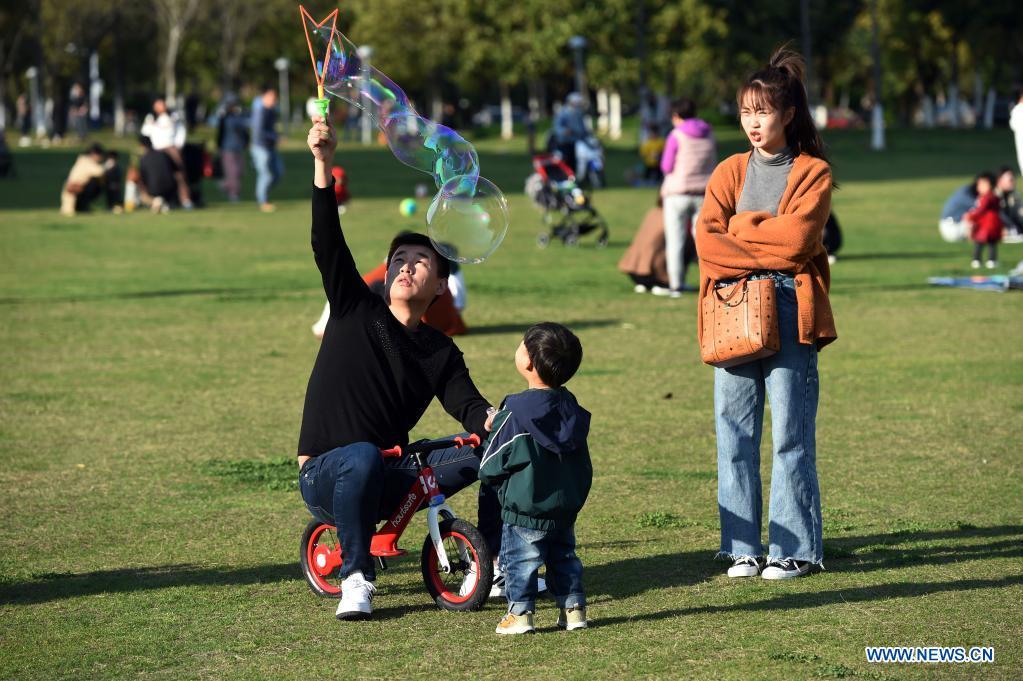 Urban residents are spending more time both working and enjoying leisure activities due to shortened commutes and increasing remote working opportunities.
A recent report by the China Tourism Academy showed that city dwellers worked 192.6 hours more this year compared with 2021, but they also had 66.6 more hours of leisure time.
Still, maintaining a good worklife balance remains a challenge since many people have shifted to working from home because of epidemic control policies, the report said.
Li Xue, an associate researcher at the academy, said that the research team divided residents' days into five parts, including work time, leisure time and time spent commuting. The team concluded that on average, residents spend 3.89 to 5.66 hours per day on leisure.
Not surprisingly, the length of leisure time is closely related to time outside working hours. For example, people spend about 4.8 hours of leisure time on the weekends and 4.6 hours on holidays, but they only have about 3.9 hours of leisure time on working days.
Rural inhabitants have more leisure time on working days, roughly 4.14 hours per day, and retirees have the most — 5.66 hours per day on average, according to the report.
Li said that leisure time generally consists of four types of activities — shopping, cultural activities such as visiting a museum, playing sports and staying at home. Of the four, shopping is the most popular, with 60 to 70 percent of people surveyed favoring it over other leisure activities.
She said that people have shown a greater preference for outdoor leisure activities amid the epidemic. Figures from the report show that the proportion of people who prefer to stay at home for leisure these days has dropped by 5.26 percentage points among urban residents compared with that of 2019, before COVID-19 hit.
"Staying at home doing nothing was my favorite activity before the epidemic; it was the best way for me to relax after my busy workdays. But now, I prefer taking a walk outside when I have time for leisure because I've worked from home for nearly two months due to COVID-19 control policies," said Chen Xiye, who works in public relations at a tourism company in Beijing.
She said that breathing fresh air in a park or visiting an art exhibition are now her favorite leisure activities.
"Spending one or two hours in exhibition halls viewing art is relaxing. I often choose exhibitions near my home because I don't like spending too much time traveling," she added.
Chen is not alone. The academy's report said that most residents preferred leisure activities near their living or working places this year, and that preference has increased in the three years since the epidemic began.
According to the report, about 64 percent of urban residents surveyed preferred engaging in leisure activities at places 1 to 3 kilometers away from their homes this year. Back in 2019, the figure was around 32 percent.
Furthermore, the proportion of surveyed urban residents preferring leisure activities in places more than 3 kilometers from their homes fell to 13.8 percent this year, compared with about 42 percent in 2019.
Li Xue, the associate researcher, said that people are showing a stronger desire for leisure thanks to supporting policies from the government and improved leisure options being offered, so it's very important for the government to continue to optimize the environment and for companies to continue to come up with new offerings to enrich the leisure experience in the future.