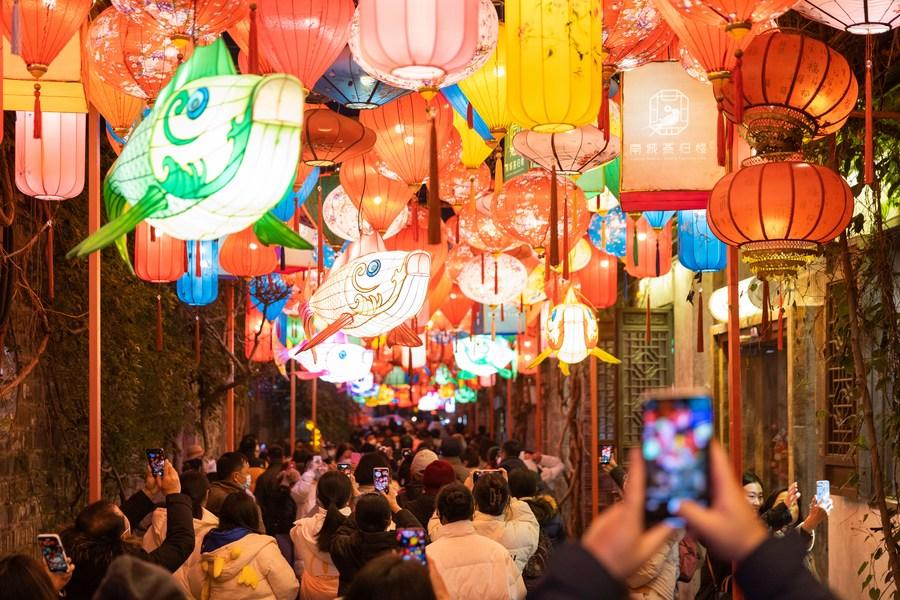 Tourists view lanterns at Laomendong scenic area in Nanjing, east China's Jiangsu Province, Jan. 22, 2023. [Photo/Xinhua]
If there is one phrase to describe the past Spring Festival holiday, it is "Ren Shan Ren Hai," a Chinese idiom meaning there are many people out there.
The first Spring Festival holiday since China optimized its COVID-19 response policies saw the hustle and bustle return to tourist attractions and cultural venues, a strong signal that the country's economy will see a robust recovery this year.
Booming tourism
Taishun County, located in east China's Zhejiang Province, received over 280,000 tourists during the holiday after a dance performance inspired by the county's special-shaped bridges was broadcast nationwide at this year's China Central Television (CCTV) Spring Festival Gala.
"The bridges were seething with tourists, and the county received 50 percent more visits during this holiday than the previous year," said local official Shen Haiqing.
Data from Alibaba's travel branch Fliggy showed domestic long-distance trip orders during the Spring Festival increased by more than 500 percent year on year, with domestic flight and train bookings up over 40 percent and nearly 80 percent respectively.
Shanghai received over 10 million visits, with its main tourist attractions receiving over 4.1 million, about 90 percent of the figure during the same holiday in 2019.
During the same period, over 7 million tourist arrivals were recorded in Beijing and the tourism revenue reached 7.46 billion yuan (about 1.1 billion U.S. dollars), up 57.6 percent year on year. Chen Tao, who works at a tourism company in Beijing, said the market during this year's Spring Festival holiday was "much better" than last year.
"We had over 70 tourist groups, and tourists from outside Beijing accounted for more than 80 percent of the total," Chen said.
According to the Ministry of Culture and Tourism, travelers made 308 million domestic trips, up 23.1 percent from 2022.
"We have seen a tourism boom over the Spring Festival holiday and can expect steady growth of the market in the rest of the year," said Dai Bin, president of the China Tourism Academy.
Revived traditional culture
Traditional festive activities, hardly seen in many places over the past three years due to the epidemic, attracted millions of tourists seeking the nostalgic buzzing atmosphere of the Spring Festival.
According to official data, over 470 million visitors participated in around 110,000 public cultural events, including lantern shows and traditional folk opera performances nationwide.
In the southwestern municipality of Chongqing, Li Jie, manager of a dragon dance performance company, has been busy dealing with performance orders. Usually performed at festive celebrations, the dragon dance involves a team of dancers using poles to rhythmically move a giant dragon puppet.
"Our telephone line has been overloaded for performance orders," Li said. "We have sent over 200 performers to Beijing and other cities to generate festive vibes for the audiences."
Data from the Beijing Municipal Cultural Heritage Bureau showed that museums in Beijing recorded around 1 million tourist visits during the holiday, with the Palace Museum and the National Museum of China the top choices.
"The younger generation is celebrating the Spring Festival in more ways. The return of traditional festival activities embodies the people's fondness for traditional festival culture and their confidence in the culture," said Li Xiangzhen, associate professor of social sciences at Wuhan University.
Audiences back to cinemas
On Friday, the last day of the week-long Spring Festival holiday, cinema manager He Feiyu was surprised by the moviegoer crowds despite the frigid temperature of minus 10 degrees Celsius in Hohhot, capital city of north China's Inner Mongolia Autonomous Region.
"Usually, people tend to go to cinemas on the first and second day of the Chinese Lunar New Year, but the attendance figures remained high during this year's holiday. It seems that the public enthusiasm for movies has been ignited," He said.
China's movie box office revenue reached nearly 6.76 billion yuan during the Spring Festival holiday this year, making for the second-highest gross figures for this holiday to date, said the China Film Administration on Saturday.
Covering diverse genres, this year's holiday films were professionally made and fully met the particular demands of the audience.
Rao Shuguang, president of the China Film Critics Association, said that film consumption is expected to continue growing after the holiday, as people who were busy traveling during the Spring Festival holiday get an opportunity to watch films.
"People's enthusiasm for cinema-going may last for several weeks," Rao predicted.
"We are working overtime to serve the moviegoers," said Liang Zhiqiang, a manager of a cinema in Chaoyang District in Beijing, pointing to a popcorn machine which rarely has one minute to rest.
"Our confidence is boosted, and the future will be better," Liang added.