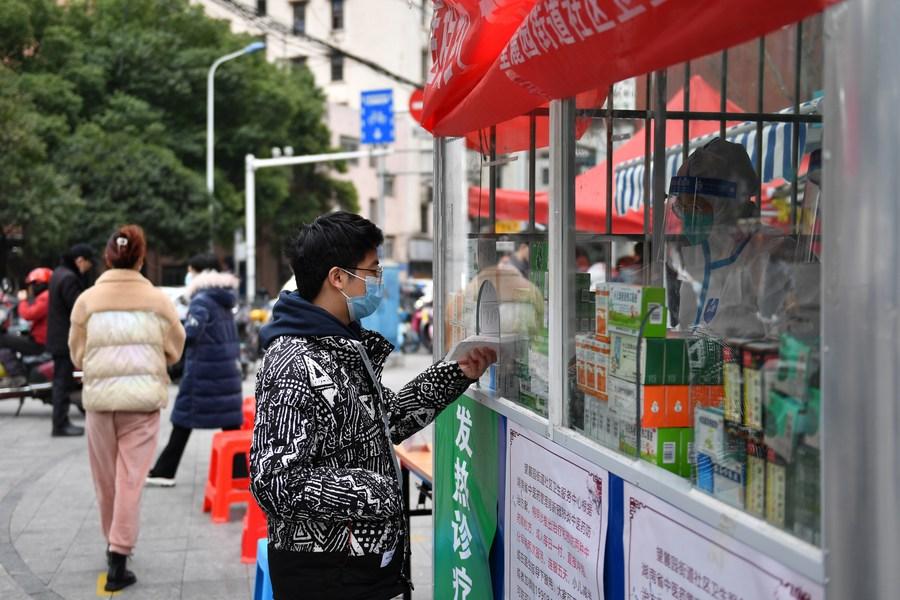 A resident collects medicine at a fever clinic in Kaifu District of Changsha, central China's Hunan Province, Dec. 20, 2022. [Photo/Xinhua]
Some cities are experimenting with innovative uses for old COVID-19 testing booths, turning them into makeshift fever clinics, pharmacies and even employment advice centers for job seekers from out of town.
The changes follow China's decision to drop mass testing requirements last month, which was part of a sweeping effort to fine-tune the country's epidemic control policies in light of the decreasing virulence of Omicron subvariants.
The ubiquitous testing booths used to be staffed by a couple of nucleic acid sample collectors and ensured free-of-charge COVID-19 testing within walking distance for most urban households.
As China has downgraded the management of COVID-19 and reduced testing requirements for everyday scenarios such as using public transport, the booths have begun to appear for sale online.
The prices vary, from a modest few hundred yuan (about $50) to tens of thousands of yuan.
In Suzhou, a major destination for migrant workers in Jiangsu province, the city has repurposed some of the facilities near the central train station as "service stations", which offer employment consultations and legal aid for labor disputes, local media reported on Friday.
In the wake of the weeklong Spring Festival break, which ended on Friday, tens of millions of migrants are returning to cities for work.
Remodeling testing booths for other purposes is nothing new.
Just ahead of Chinese New Year, the Suzhou government temporarily turned them into stores catering to residents buying goods for the holiday.
Last month, the booths were also used as makeshift consultation rooms and pharmacies to handle a sudden surge of fever patients. The testing booths-turned medical outposts dotting residential communities helped ease the strains on local hospitals so that doctors could focus more on patients in critical condition.
In Jinan in Shandong province, neighborhood official Lyu Qiang came up with an idea in mid-December to convert the local testing booth into a mini fever clinic. He reported his idea to his superiors and received a green light to proceed.
In the end, 10 such booths in his neighborhood were re-engineered to serve the purpose.
Each booth was fitted with computers, radiators, printers and blood pressure monitors, and staffed by a primary-care doctor and a pharmacist.
Lyu worked with the local government to ensure that they had fever-reducing drugs and other medications commonly used for seasonal flu that were in tight supply at the time.
According to Lyu, the booths played a significant role in reducing pressure on hospitals during the peak in COVID-19 infections ahead of the Spring Festival holiday.
"They were each receiving about 80 patients a day at the time," he said.
Lyu said that though there are few visitors now, they've decided to keep the booth in case of future waves of COVID-19.
"I have no idea what we will do with these booths in the future, but I definitely wish they do not have to be used to fight pandemics like COVID-19," he said.