Recovered market confidence and a burgeoning "romance economy" based on the rising incomes of consumers in China have led to robust sales of fresh-cut flowers.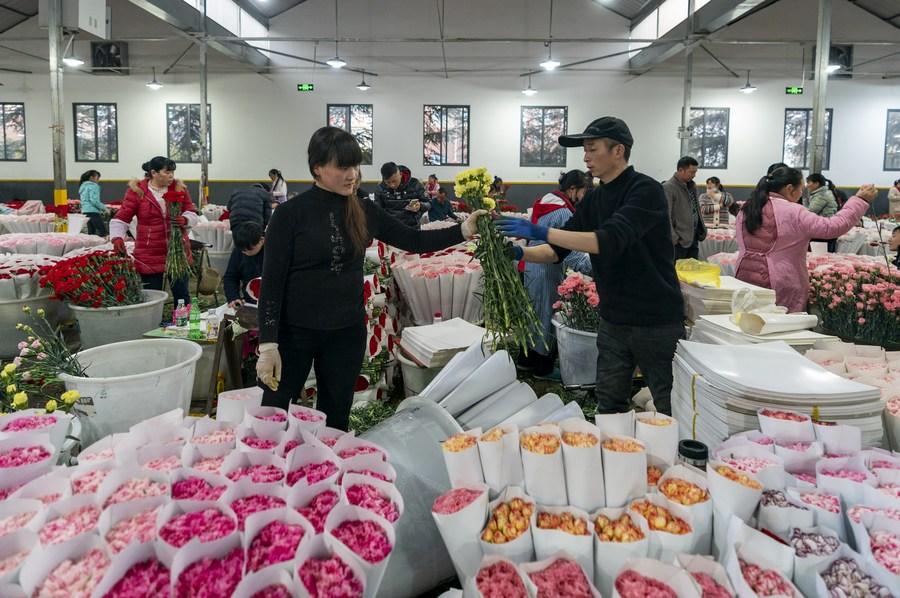 At a flower shop in Beijing, busy shop assistants could recently be seen packing bouquets ahead of Valentine's Day. "No one can refuse a bunch of beautiful flowers," said Chen Lin, a manager at the store. The shop used to sell imported flowers, but now it sells flowers from southwest China's Yunnan Province, the country's main flower producer.
The florist's sales over the past few days were between 50,000 yuan (about 7,300 U.S. dollars) and 100,000 yuan per day, higher than sales before the COVID-19 pandemic, she said.
In recent days, the average daily wholesale volume at the Dounan Flower Market in Kunming, capital of Yunnan Province, climbed to nearly 30 million stems. Dounan Flower Market is Asia's largest fresh-cut flower trading market.
Behind the hot sales of fresh-cut flowers are income growth and the pursuit of romance. "It was unimaginable in the past," veteran flower seller Yang Yuyong said. "In the past, there were few flower shops and the prices of fresh-cut flowers were high. Fresh-cut flowers were regarded as luxury gifts."
Consumers buy flowers for festivals and celebrations, but consumption is changing and more people are now buying flowers on normal days to add romance to their lives.
"In the past, people received flowers or bought flowers as gifts on birthdays. Now many e-commerce platforms sell a great variety of flowers at rather cheap prices," according to a woman in Beijing surnamed Song. "There are fresh flowers in my home all year round. In the past, flowers were gifts, and now flowers are a routine part of life," Song said.
With the development of flower production areas like Yunnan, both the quantity and quality of China's flower supply have been improved, and consumption patterns are also changing, said Li Shenchong, director of the flower research institute at the Yunnan Academy of Agricultural Sciences.
"Household purchases to spice up routine life have now become the trend of flower consumption," Fei Xuemei, vice president of the China Flower Association retail arm. With the development of the romance economy, consumer demand for high-quality flowers has been growing year by year, Fei said.
China's booming e-commerce and fast-growing express delivery industry are also buoying sales of fresh-cut flowers.
"A quarter of my flowers are sold online," said florist Zhang Kuaping from the Kunming Dounan Flower Market. "I match different flowers according to customer preferences and deliver the flowers by air," said Zhang, who has regular customers in Shanghai, Nanjing and Guangzhou who now order on a monthly basis.
Cai Fukun, a courier working for SF Express in Yunnan, has been working very late recently -- taking orders, packaging the flowers and loading the parcels onto his truck.
Flower transportation has strict requirements for temperature and speed, so courier giant SF Express has invested in full-cargo aircraft and cold-chain vehicles, said Yang Jinglei, an official from the Yunnan branch of SF Express.
"We have created an 'aviation plus high-speed railway plus cold chain' transportation mode. Flowers can be delivered from the fields to customers in as little as 24 hours," Yang said.
Han Tianxing, who has been working in the flower industry in Kunming for nearly 30 years, said that cold chain and aviation logistics guarantee the timely delivery of fresh-cut flowers. "The quality is not affected, and the romance is not discounted," Han said.
"Post-harvest treatment is also very important for the quality of flowers," Fei said. The flower industry in Yunnan has established a standardized treatment process: precooling, packaging and refrigeration. Some enterprises have even developed "freshness agents" to extend the lifecycle of flowers.
The recovering market confidence this year has also contributed to the fresh-cut flowers sales surge, said Li Qian, an auctioneer at the Kunming International Flora Auction Trading Center. From Jan. 24 to Feb. 8, the center's trading volume was 56.42 million stems, up nearly 40 percent year on year.