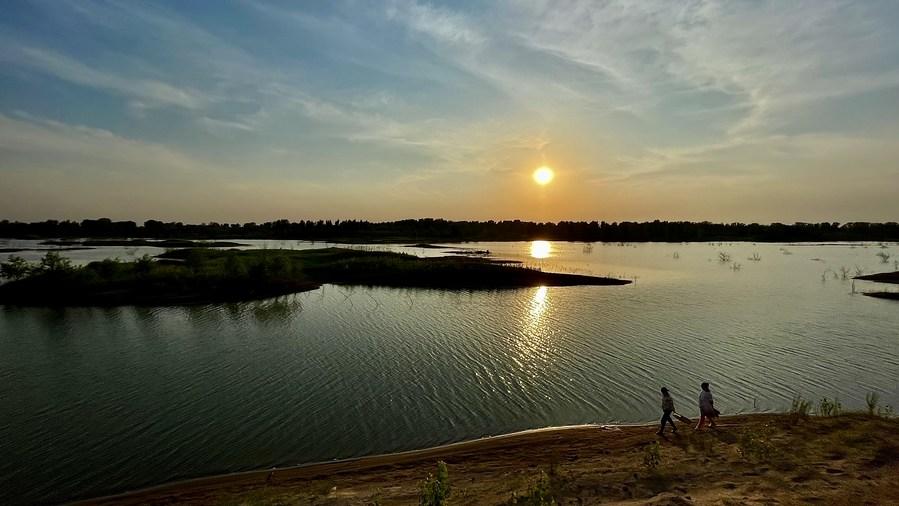 Photo taken with a mobile phone shows people walking along the Yongding River at sunset in Daxing District of Beijing, capital of China, May 30, 2021. [Photo/Xinhua]
Wanjiazhai, a major reservoir in the middle reaches of the Yellow River, will continue to replenish water this year to the Yongding River, a primary river flowing through Beijing, according to the Wanjiazhai Water Holding Group Co., Ltd. on Tuesday.
A total of 165 million cubic meters of water will be diverted from Wanjiazhai to Yongding River twice, in spring and autumn, to help restore the ecological environment in the Beijing-Tianjin-Hebei area.
Thereinto, around 100 million cubic meters of water will be diverted during spring at an average speed of 10 cubic meters per second.
The river basin of Yongding is one of the most important water conservation areas and an ecological barrier and corridor in Beijing and surrounding areas. The amount of replenished water surpassed 1.1 billion cubic meters from 2017 to 2022.
Yongding River flows through north China's Inner Mongolia Autonomous Region, Shanxi Province, Hebei Province, and the cities of Beijing and Tianjin, covering 759 km. The river section in Beijing is 170 km long, with a basin area of 3,200 square km.