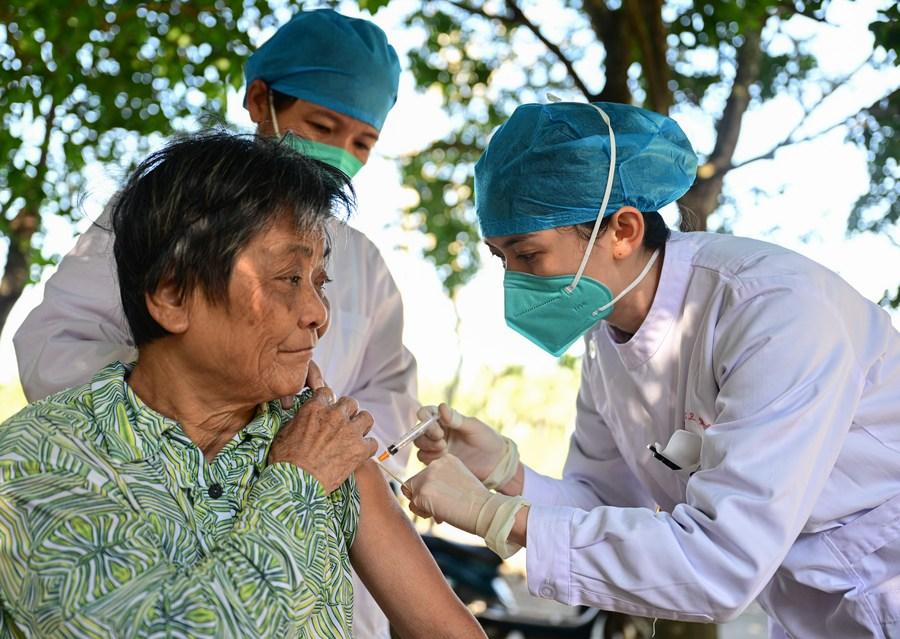 A medical worker administers a dose of COVID-19 vaccine to a senior resident in Hufeng Village of Wenchang, south China's Hainan Province, Dec. 22, 2022.[Photo/Xinhua]
China has recently rolled out two protein-based COVID-19 vaccines to serve as booster shots against Omicron subvariants, bringing new weapons to China's fight against mutated strains of the virus.
The vaccines are SCTV01C by SinoCellTech and SCB-2019 by Clover Biopharmaceuticals.
They are both recombinant protein subunit vaccines that were approved for emergency use by the National Medical Products Administration in December.
The two vaccines are also recommended as a booster for those inoculated with three inactivated vaccines, according to the National Health Commission's second booster dose campaign targeting older adults and immunocompromised individuals.
Recombinant protein subunit vaccines use fragments of protein from the disease-causing virus to trigger immunity against it, while inactivated vaccines use the dead version of the pathogen for protection. China has now granted five protein subunit vaccines for emergency use, according to the administration.
Starting on Tuesday, Beijing residents can apply to take the SCTV01C vaccine as a booster in selected locations in the city, while residents in Changxing, Zhejiang province can begin receiving the first doses of the SCB-2019 vaccine. Both companies plan to roll out their vaccines in other provinces in the future.
Both SCTV01C and SCB-2019 can offer protection against multiple Omicron subvariants, such as BA.1 and BA.5, when administered as a booster shot for those inoculated with inactivated vaccines, which is a large portion of the Chinese population.
According to phase three clinical trial results, SCTV01C can trigger a high level of antibody response in a person after 28 days of receiving the shot as a booster.
As for SCB-2019, the vaccine had demonstrated broad and robust cross-neutralizing of multiple Omicron subvariants, including more recent strains such as Omicron BF.7, BQ.1.1 and BA.2.75, the vaccine creator said.