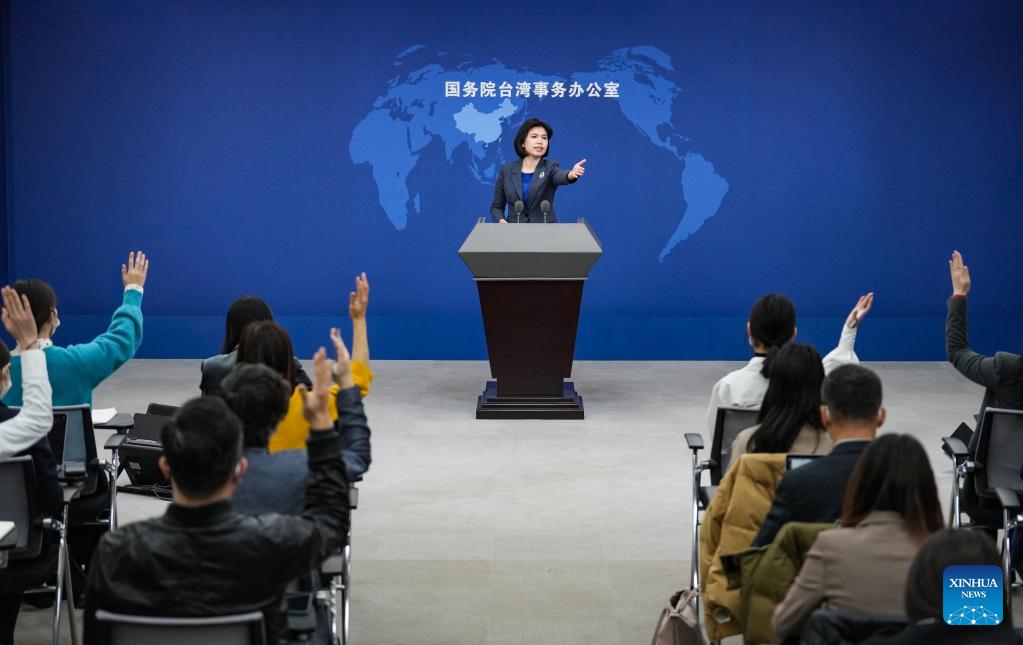 Zhu Fenglian, spokesperson for the Taiwan Affairs Office of the State Council, gestures at a press conference in Beijing, capital of China, Feb. 22, 2023. [Photo/Xinhua]
The Chinese mainland will make utmost efforts to facilitate exchanges across the Taiwan Strait and reduce the costs of such activities, said a mainland spokesperson on Wednesday.
Zhu Fenglian, spokesperson for the Taiwan Affairs Office of the State Council, said the mainland spares no effort in facilitating a substantial expansion of cross-Strait flights, with schedules dynamically managed by airline companies from both sides.
Noting the limited flight capacity and limited amount of non-stop destinations as a result of the Democratic Progressive Party (DPP) authorities' unilateral restrictions, Zhu said relevant authorities in Taiwan did not respond to the mainland's request to reopen 16 non-stop flight destinations.
Zhu urged the DPP authorities to remove such barriers and restore the normal order of direct passenger flights across the Strait.
Previously, cross-Strait exchanges were severely strained due to COVID-19 and the DPP's deliberate obstructions. Now that the COVID-19 concern has subsided, such barriers should be removed as soon as possible, said Zhu.
At the start of this year, the mainland invited Taiwan's major industry and commerce organizations to visit the mainland and discuss cooperation.
These organizations have made travel plans to the mainland and expressed their shared hope for enhanced cross-Strait exchanges and cooperation and peaceful development of cross-Strait relations, Zhu said.