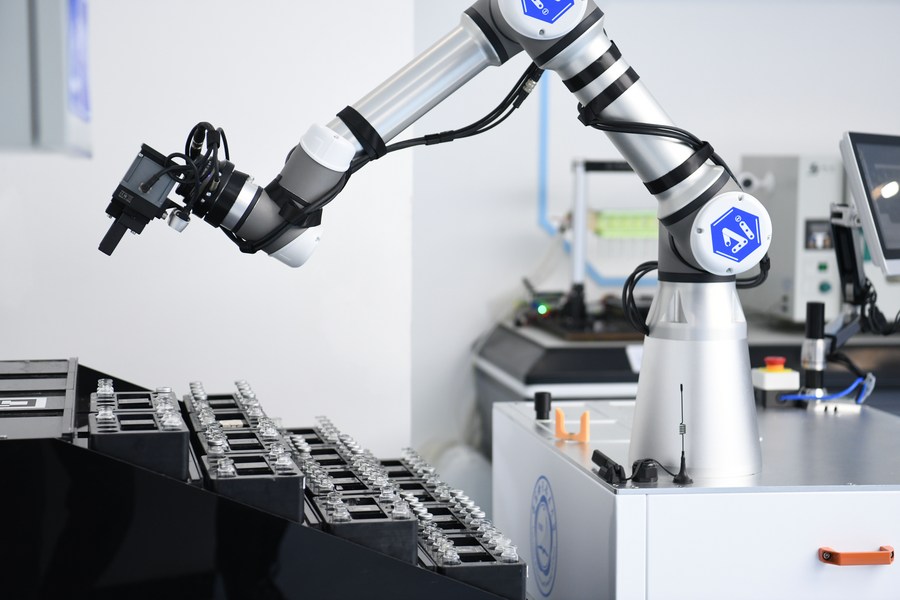 The AI-Chemist system performs a chemical experiment at a laboratory in the University of Science and Technology of China in Hefei, east China's Anhui Province, Oct. 21, 2022. [Photo/Xinhua]
At the ongoing "two sessions," artificial intelligence (AI) has been a hot topic of discussion among the deputies to the 14th National People's Congress (NPC) and members of the 14th National Committee of the Chinese People's Political Consultative Conference (CPPCC). Several suggestions for developing AI have been put forward across multiple sectors, including healthcare and education.
"AI has become a strategic technology that leads the new round of technological revolution and industrial transformation," said Liu Qingfeng, an NPC deputy and chairman of iFLYTEK, China's leading AI and speech technology company.
Liu proposed providing further support for China's domestic software and hardware technology foundation for AI, enabling the development and operation of large models on domestically developed storage, computing power, operating systems, and other basic platforms.
Liu also suggested using AI to assist doctors with diagnosing patients, improving their work efficiency and service capabilities, and promoting the development of grassroots medical care.
Zhang Boli, an NPC deputy and honorary president of Tianjin University of Traditional Chinese Medicine, recommended using AI to transform the traditional pharmaceutical industry, including establishing digital pharmaceutical production lines and using intelligent manufacturing systems.
"By fully adopting AI technology, smart pharmaceuticals can enhance quality improvement throughout the entire chain from research and development, production, and circulation to end consumption for pharmaceutical enterprises," he said.
Regarding AI's application in education, Wang Xiaofan, a CPPCC member and vice president of Shanghai University, proposed actively and steadily promoting AI technology to empower higher education while ensuring a reasonable and ethical approach.
Zhu Songchun, a CPPCC member and director of the Beijing Institute for General Artificial Intelligence, proposed extending the popularization of AI education and talent training to basic education and developing AI education courses across the country.
In an interview after the first plenary meeting of the NPC on March 5, Chinese Minister of Science and Technology Wang Zhigang addressed recent concerns about AI tools, including the large language model ChatGPT.
Wang acknowledged ChatGPT's ability to combine big data, computing power, and strong algorithms to advance computing methods, and emphasized that China has made significant strides in the field of AI. He highlighted the impact of this technology extends beyond the realm of technology itself and may include empowerment applications in other fields.
"China has implemented several projects focused on the development of AI technology over the years, and we have proposed eight principles of AI governance. Additionally, there have been numerous launches of AI application scenarios, such as 'smart ports,'" Wang said.
"I hope that universities, research institutes, and companies engaged in AI research and transformation can make better progress and development, to promote the development of AI, and contribute to the international community," the minister said.