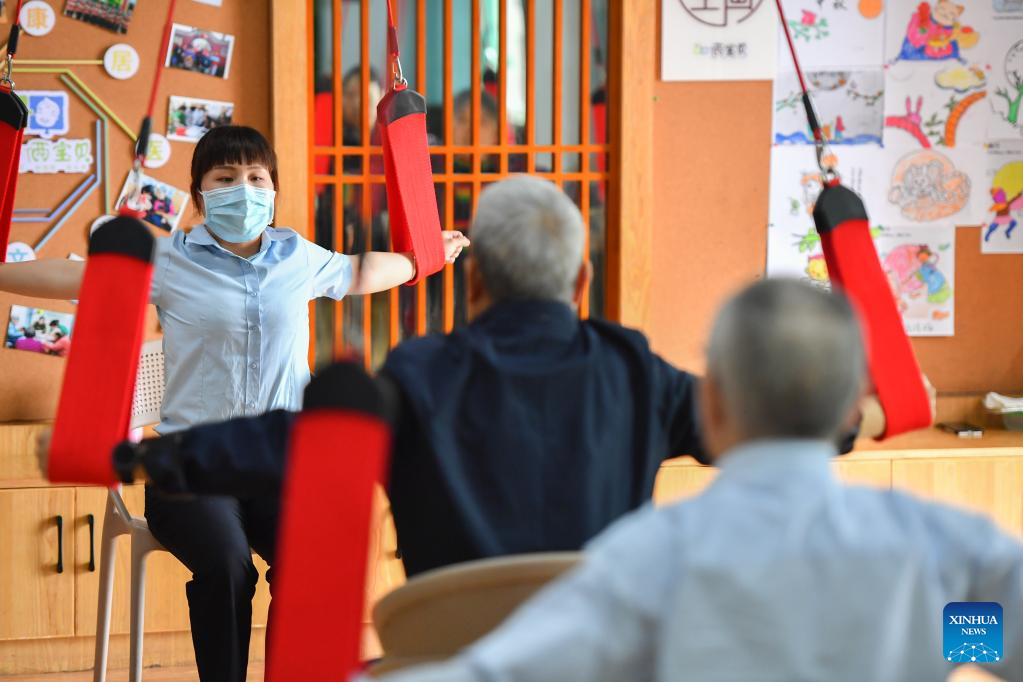 A nursing worker provides rehabilitation training at an elderly care service center in Yuhu district of Xiangtan city, central China's Hunan province, May 17, 2022. [Photo/Xinhua]
As China's elderly population continues to grow, addressing the challenges arising from age-related neurodegenerative diseases, such as Alzheimer's disease (AD) and dementia, is of the utmost importance, said Yao Dezhong, a deputy to the 14th National People's Congress (NPC), China's top legislature.
China has one of the fastest-growing aging populations in the world, with the number of Chinese aged 60 and above reaching 267 million, or 18.9% of the total population, as of the close of 2021, according to the National Bureau of Statistics.
During the 14th Five-Year Plan period (2021-2025), it is projected that China's elderly population aged 60 and above will surpass 300 million, representing over 20% of the total population, marking China's transition into a moderately aging society.
"On average, dementia incidence affects 5.2% of people over 65 and increases with age, reaching 15-20% in those aged 75-85 and about 30% in those over 85," said Yao, who is also a professor at the School of Life Science and Technology at the University of Electronic Science and Technology of China and head of the Sichuan Institute for Brain Science and Brain-Inspired Intelligence.
Research findings indicate that AD remains underrecognized in China. A survey conducted in 2021 on the awareness and diagnosis rate of Chinese people in the preclinical stage of AD showed that while 87% of people were aware of AD, only 17% proactively sought medical treatment, ultimately leading to significant delays in early intervention.
Yao stressed the importance of recognizing that AD has pre-dementia stages, including subjective cognitive decline and mild cognitive impairment. He emphasized seeking medical examination and early intervention during these stages is crucial.
In addition, Yao suggested that institutions led by the government should conduct public education campaigns and early screening programs regarding dementia in elderly people.
Regarding non-pharmacological treatments, the researcher highlighted the emerging interdisciplinary field of Brain-Apparatus-Conversation, which explores the interactions between the brain and non-biological instruments, biological organisms outside the body, and organs inside the body. His research team is working to apply this approach to help treat various brain disorders.
Yao noted that the aging process in humans is accompanied by the simultaneous decline of multiple organs and senses, necessitating a systemic and comprehensive approach to intervention therapy.
Yao provided an example, stating that while activities such as playing mahjong can aid in brain training, sitting for extended periods can adversely affect the body. On the other hand, sports like basketball involve physical strength, intelligence, and interpersonal communication, making them a more comprehensive form of exercise.
Yao suggested that brain games that integrate visual, auditory, and physical stimuli can facilitate comprehensive interventions and improve cognitive function and overall health for the elderly.
He recommended that universities and research institutes collaborate closely, leveraging big data and artificial intelligence to analyze the physical and mental health data of the elderly population and use the findings to develop more brain games tailored to their needs.