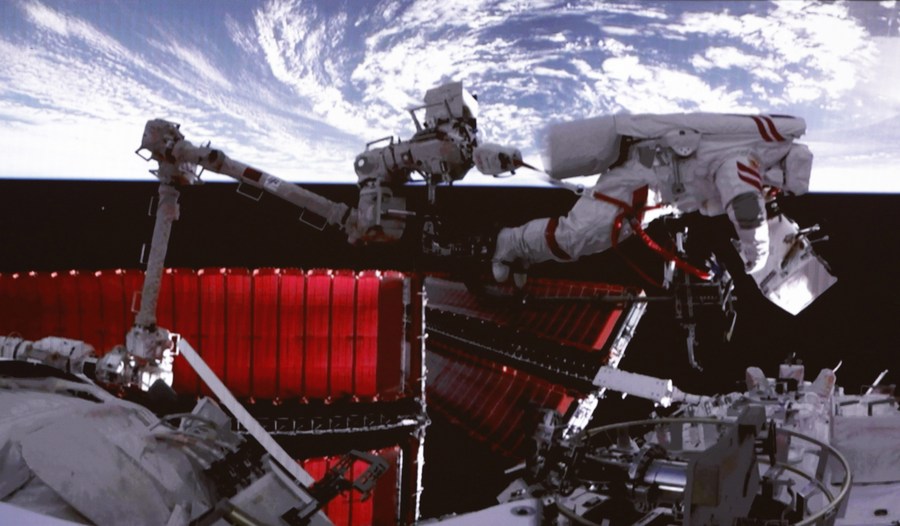 This screen image captured at Beijing Aerospace Control Center on Feb. 9, 2023 shows Shenzhou-15 taikonaut Fei Junlong conducting extravehicular activities (EVAs) out of the space station lab module Wentian. [Photo/Xinhua]
China's Shenzhou-15 crew is scheduled to return to Earth in June, the China Manned Space Agency (CMSA) said Sunday.

The space station combination is operating steadily, and the Shenzhou-15 astronauts are in good condition, said the CMSA.
China will launch three space missions for the space station application and development this year, including the cargo craft Tianzhou-6 and the crewed spaceships Shenzhou-16 and Shenzhou-17.
Tianzhou-6 has been transported to the Wenchang Spacecraft Launch Site in the southern province of Hainan and is scheduled to be launched in May.
The crew members for the two manned missions have been selected and are now undergoing training.
Adhering to the principles of peaceful use, equality, mutual benefit, and common development, China is committed to making its space station an open platform for scientific and technological cooperation and exchange for the international community.
The first batch of experimental projects jointly selected by the CMSA and the United Nations Office for Outer Space Affairs is scheduled to be carried out in the space station this year.
According to the CMSA, China has achieved breakthroughs in key technologies for its manned lunar exploration and completed argumentation on the manned lunar exploration plan. It will start the research and development work for the lunar landing project this year.