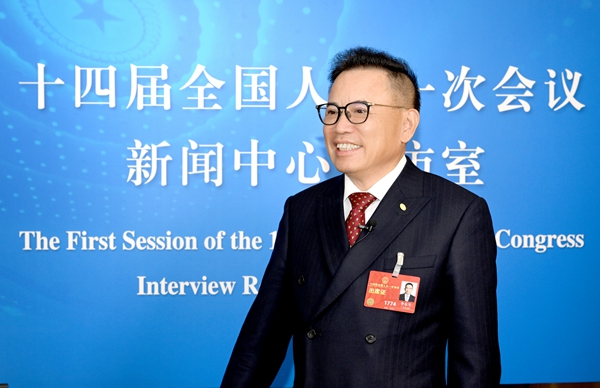 Li Dongsheng, a deputy to the 14th National People's Congress and founder and chairman of TCL electronics [Photo provided to China.org.cn]
Li Dongsheng, a deputy to the 14th National People's Congress (NPC), has called for legislation to combat online violence in China in order to establish an effective mechanism for curbing violence in cyberspace and create a cleaner and safer online environment.
During a recent interview with China.org.cn, Li, who is the founder and chairman of TCL, an electronics giant, noted that the online environment has become a complex public opinion arena where certain remarks can create confusion, making it difficult for people to distinguish right from wrong.
To address this issue, Li has proposed enacting the "Anti-Cyber Violence Law," which would legally define and specify the scope of online violence and guide judicial practice with specific legal provisions.
He also suggested constructing a technical model for identifying online violence, strengthening monitoring and protection mechanisms, and building a fast-reporting channel to reduce the difficulty in collecting evidence.
To strengthen the deterrent effect of legal measures against online violence, Li proposed implementing a blacklist mechanism and adopting measures such as extended punishment periods, flow control, silencing, and account closure for individuals or organizations involved in online violence.
Li also expressed his support for this year's Work Report of the Supreme People's Court, in which China pledged to take substantial measures to crack down on illegal crimes that infringe on the rights and interests of medical personnel, such as violent assaults, disturbances of medical order, and medical disputes.
Li emphasized that medical personnel protect people's lives and health, and their safety and legitimate rights and interests should also be protected while saving lives and helping the injured.
Li also stressed that resolving medical disputes requires targeted regulations to effectively balance the rights and interests of patients, medical personnel, and medical institutions. Doing so will not only safeguard the rights and interests of medical personnel but also create a better environment for people to seek medical treatment.