China's national legislators and political advisors who attended this year's "two sessions" have proposed cultural approaches to rural revitalization.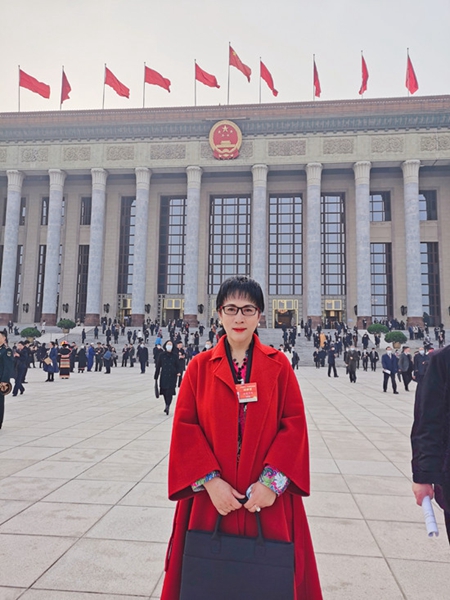 Zongyong Zhuoma, a Tibetan soprano and a member of the 14th National Committee of the Chinese People's Political Consultative Conference (CPPCC). [Photo provided to China.org.cn]
Zongyong Zhuoma, a renowned Tibetan soprano and a member of the 14th National Committee of the Chinese People's Political Consultative Conference (CPPCC), presented a proposal with the theme of strengthening rural cultural construction and promoting rural revitalization at this year's CPPCC meeting.
The proposal aims to boost cultural and tourism resources in rural areas by attracting cultural talent. She told China.org.cn that integrating rural culture into rural revitalization efforts can lead to economic development and social stability, while enhancing the cultural landscape. However, she noted the challenge of attracting young people to cultural talent training and suggested the establishment of incentive programs.
Zongyong Zhuoma also proposed improving rural cultural facilities, discovering and revitalizing rural cultural resources, and blending traditional culture with modern life.
Furthermore, she suggested using "Internet Plus" to fully utilize the advantages of new media and promote cultural tourism and characteristic rural areas through various channels and platforms, thus advancing the construction of the "beautiful countryside."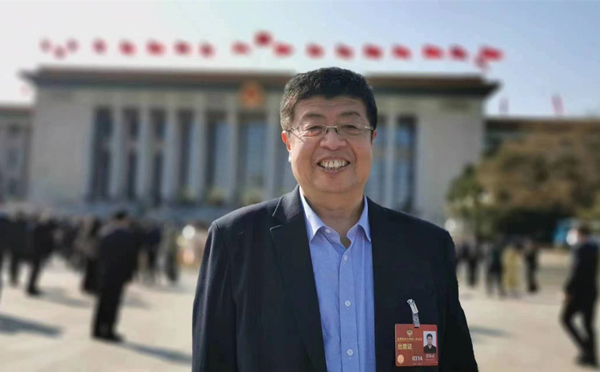 Zhang Yiwu, a political advisor and a professor of Chinese studies at Peking University, poses for a photo as he attends the annual meeting of the Chinese People's Political Consultative Conference (CPPCC) in Beijing, March 4, 2023. [Photo provided to China.org.cn]
Zhang Yiwu, a political advisor and professor at Peking University, stressed the value of China's cultural and intangible heritage for cultural and tourism development. However, he noted that some projects lack scale and industrialization, leading to low economic returns.
Online live streaming has emerged as a valuable tool for promoting intangible cultural heritage consumption. Last year, Douyin witnessed a 642% year-on-year increase in live broadcasts of intangible cultural heritage projects. Around 210,000 people engaged with 498 intangible cultural heritage online stores to observe, learn and appreciate the skills associated with intangible cultural heritage.
Zhang proposed the cultivation of new online and offline consumption models to promote intangible cultural heritage, by enabling high-quality cultural and tourism vloggers. He suggested nurturing a new generation of intangible cultural heritage inheritors with business knowledge and marketing skills.
Wu Chengxiang, a deputy to the 14th National People's Congress and professor at Jiangxi Normal University, called for measures to further strengthen the preservation of intangible cultural heritage, which is crucial for rural revitalization. Despite having more than 90,000 representative inheritors of intangible cultural heritage in China, including more than 3,000 national-level representative inheritors as of the end of 2022, much remains to be accomplished.
To address various challenges, Wu suggested surveying the living conditions of inheritors of intangible cultural heritage and providing assistance wherever necessary. The government should also directly allocate funding to inheritors to cover the initial costs of intangible cultural heritage activities. Inheritors should be encouraged to explore new ways of promoting their skills, such as e-commerce and brand marketing. Additionally, Wu called for greater emphasis on inheriting intangible cultural heritage in schools to pass on these skills to the younger generation.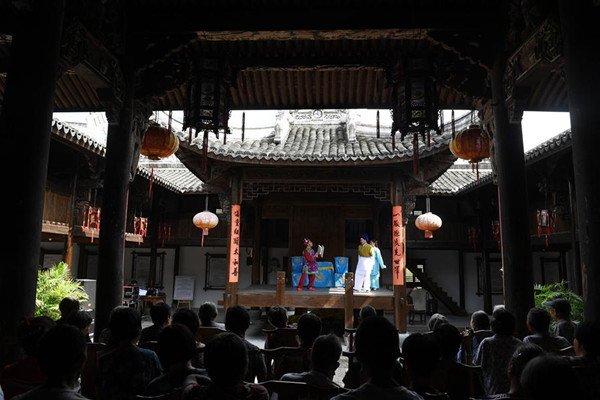 A file photo shows performers performing the Shaoxing Opera in Jinzhulingjiao village of Xianju county, east China's Zhejiang province. [Photo/Xinhua]
Xu Zerong, an NPC deputy and vice president of the Chaozhou Arts and Crafts Association, has spent more than a decade studying porcelain-making techniques. According to Xu, incorporating cultural elements into rural revitalization efforts can take it to the next level.
Xu believes that using the arts and crafts industry to drive rural revitalization is a new channel and way of development.
Xu noted that many rural areas in China have excellent scenery and convenient transportation, and connecting the upstream and downstream industry chains of rural arts and crafts is crucial for attracting artistic talent and promoting local economic development.
Xu suggested establishing ceramic art research and learning centers in rural areas to attract students to learn and pass on Chinese culture, and combing such facilities with rural tourism projects to construct a rural arts and crafts industry system and promote rural economic development.
Chinese artist Shu Yong, a national political advisor, proposed incorporating social forces in reviving rural culture.
A file photo shows performers dancing during the Dragon Boat Festival at an intangible cultural heritage exhibition park in Taxkorgan Tajik autonomous county, northwest China's Xinjiang Uygur autonomous region. [Photo/Xinhua]
His suggestions include encouraging people to organize local, national, and international-level cultural and artistic events, as well as cultivating rural cultural and artistic talent. He also proposed cultural and artistic competitions in rural areas to identify and develop talented individuals.
Additionally, the artist suggested incentivizing the private sector to establish rural art galleries, museums, and cultural centers and to develop rural cultural products and merchandise.