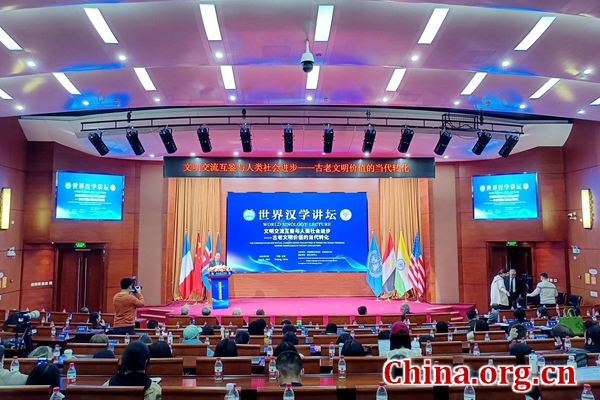 The third session of the World Sinology Lecture (WSL) is held in Beijing on March 17, 2023. [Photo by Xu Xiaoxuan/China.org.cn]
The third session of the World Sinology Lecture (WSL) convened in Beijing on Friday, with a focus on the importance of communication and mutual learning among civilizations in promoting human progress, while also exploring the relevance of ancient civilizations to contemporary society.
Chen Zhou, vice minister of the International Department of the Communist Party of China (CPC) Central Committee, praised the WSL as a successful endeavor in building a global network of dialogue and cooperation among civilizations, which can help dispel prejudice and promote progress via exchanges.
The event was a response to the Global Civilization Initiative proposed at the CPC in Dialogue with World Political Parties High-level Meeting on March 15, which emphasized the irreplaceable role of tolerance, coexistence, exchanges, and mutual learning among different civilizations in advancing humanity's modernization.
In 1998, the United Nations (U.N.) General Assembly designated 2001 as the Year of Dialogue Among Civilizations. Three years later, the U.N. Educational, Scientific and Cultural Organization (UNESCO) adopted the Universal Declaration on Cultural Diversity. Nowadays, the value of the diversity of civilizations is once again being highlighted.
"Diverse civilizations have shaped diverse development paths. In the process of inheriting and interpreting ancient civilizations and through equal exchanges and dialogues, countries have gained wisdom rooted in their own traditional culture and found a suitable development path," remarked Liu Li, president of Beijing Language and Culture University (BLCU).
Sergey Manassarian, Armenian Ambassador to China, emphasized that understanding a civilization demands in-depth knowledge of both its past and present. He added that human civilization could only innovate and reach a new height when its historical heritage is grasped.
German sinologist Dennis Schilling, a professor at Renmin University of China, emphasized the ancient Chinese concept of harmony without uniformity and expressed hope that civilizations could engage in regular, harmony-based exchanges to maintain their vitality.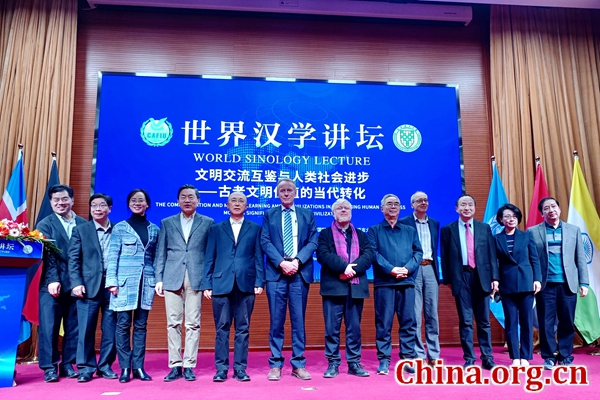 Guests pose for a photo on March 17, 2023. [Photo by Xu Xiaoxuan/China.org.cn]
American sinologist Roger Thomas Ames, humanities chair professor at Peking University and professor emeritus of philosophy at the University of Hawaii at Manoa, shared his insights into the lasting significance of Confucianism via video link. He stated that Confucian philosophers' pursuit of personal and social harmony remains relevant today.
Ragnar Baldursson, a former minister counselor for the Embassy of Iceland in Beijing, also underlined the influence of Confucianism, particularly in diplomacy. Baldursson emphasized that China honors its commitments in diplomatic relations, reflecting one of the five virtues of Confucianism: trust. Additionally, China consistently seeks inclusive cooperation with other countries by finding common ground while putting aside differences, in line with Confucianism's emphasis on peace and harmony.
Egyptian sinologist Hassan Ragab, a professor at Egypt's Ain Shams University, compared the ancient civilizations of China and Egypt, stating that there is no future without a past. He expressed his belief that these two ancient civilizations, with their enduring cultural and historical foundations, will achieve greater progress in the new era and significantly contribute to global civilizations within the framework of a shared human community.
At the end of the event, Zhang Xiping, a distinguished professor at BLCU and editor-in-chief of International Sinology, said that diversity is a fundamental aspect of civilization, and mutual learning drives the evolution of civilizations.
He highlighted that a Chinese path to modernization represents a new form of human civilization while containing elements common to all countries' modernizations. Nations should collaborate to draw wisdom from history and promote mutual learning among civilizations to build a human community with a shared future.
Organized by the Chinese Association for International Understanding and BLCU, the third session of the WSL gathered sinologists and young sinology scholars from over 40 countries worldwide to discuss communication among civilizations for human progress. Approximately 300 guests participated in the event, either in person or online.