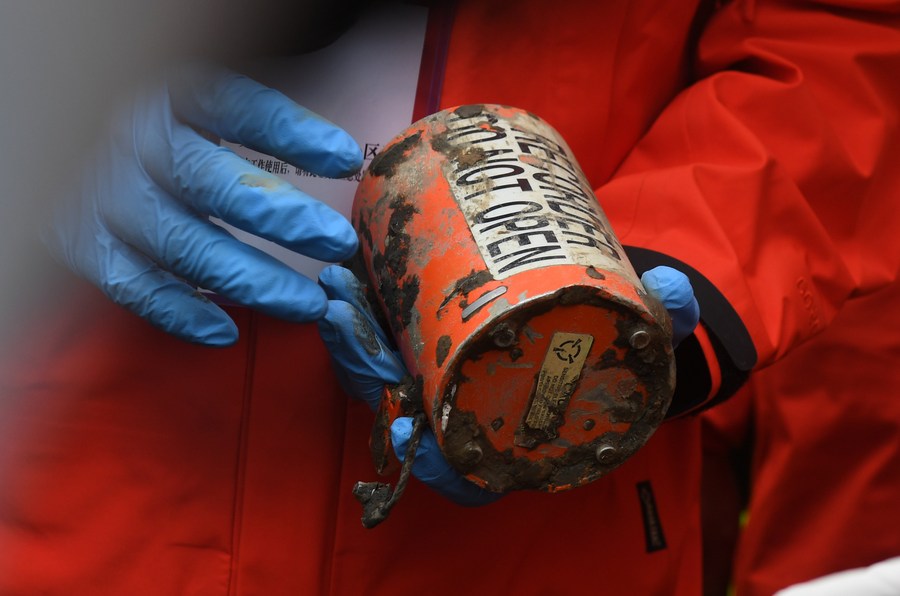 Photo taken on March 27, 2022 shows the second black box recovered at the crash site of the China Eastern Airlines' plane in Tengxian County, south China's Guangxi Zhuang Autonomous Region. [Photo/Xinhua]
The Civil Aviation Administration of China (CAAC) said Monday that its investigation into flight MU5735 that crashed a year ago is still in progress as the case is "very complex and extremely rare."
The Boeing 737-800 aircraft, operated by China Eastern Airlines, crashed into a mountainous area in Tengxian County, Guangxi Zhuang Autonomous Region, on March 21, 2022, claiming the lives of all 132 people on board.
Gao Jun, an official of the China National Aero-Technology Import and Export Corporation, said that investigations into aircraft crashes are complex processes, which usually require inspections of the qualifications and abilities of crew members, their operations, the airworthiness status of aircraft, weather conditions and airline management, among others.
Judging from what we currently know, the case is quite different from any seen in the past, as the aircraft almost completely disintegrated after falling to the ground at a high speed and the wreckage was scattered, which greatly increased the difficulty of on-site search and remains collection work and added to technical complexities, Gao said.
The aviation regulator said the CAAC and relevant departments conducted in-depth, meticulous, and rigorous technical investigations into the accident in the past year.
Disclosing information on the progress of an investigation to the public at the one-year mark is a common practice and requirement in the international civil aviation industry, Shao Quan, a professor at the Nanjing University of Aeronautics and Astronautics, told Xinhua.
Investigations into large aircraft crashes generally last more than a year as they face technical complexities and uncertainties, and many doubts and technical difficulties need to be repeatedly scrutinized, which is time-consuming, Shao said, explaining why the investigation is not yet complete.
Over the past 30 years, only 25 percent of civil aviation aircraft accident investigations in the world published final reports within a year, Shao added.
The investigation team will continue to conduct cause analysis and experimental verification work and release relevant information promptly according to the investigation progress, said the regulator.