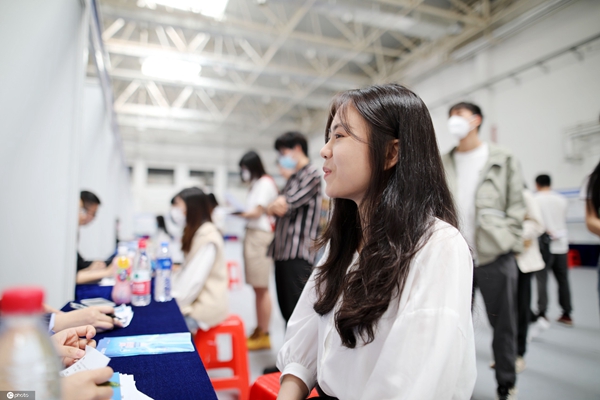 A graduate speaks with a recruiter at the 2023 Third University Talents of Shunde Exchange Conference and the 18th Graduate Students Exchange Conference in Shunde district, Foshan, Guangdong province, March 18, 2023. The event attracted more than 2,000 recent graduates and overseas students from nearly 20 renowned universities in the Guangdong-Hong Kong-Macao Greater Bay Area. More than 2,000 positions at a total of 102 enterprises in the Shunde district of Foshan city were on offer to college students. [IC photo]
March and April are the busiest time of the year for recruitment across China. Focusing on key groups such as college graduates, China's local governments, colleges and universities have taken practical steps to help stabilize employment by building platforms, expanding channels, implementing policies, improving skills and strengthening guarantees.
According to Zhaopin Recruitment's weekly spring recruitment market report, the job market is heating up. In the four weeks since the Spring Festival, the number of advertised positions increased on a weekly basis. Compared with the first week after the holiday, the number of positions recruited in the second, third and fourth weeks increased by 20%, 25% and 28%, respectively. Meanwhile, the number of resumes submitted also continued to rise. Compared with the first week, resumes submitted in the second, third and fourth weeks rose by 59%, 77% and 76%, respectively.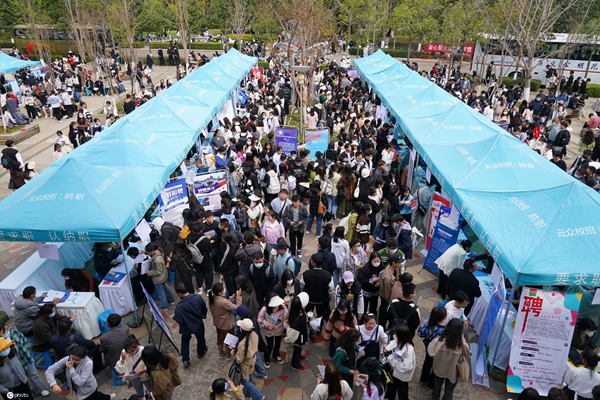 Job seekers attend the largest in-person job fair for teachers at the 2023 Recruitment Fair for Publicly-Funded Normal Students and 2023 Normal University Graduates Recruitment Fair in Kunming, Yunnan province, March 16, 2023. A total of 481 employers from Yunnan and other provinces participated. [Photo by Liu Ranyang/cnsphoto/IC photo]
According to the Human Resources Trend Report for the First Quarter of 2023 released by Liepin Big Data Research Institute, with the continued recovery of the economy and the adjustment of COVID-19 policies, many companies have shifted recruitment interviews and other activities to in-person events.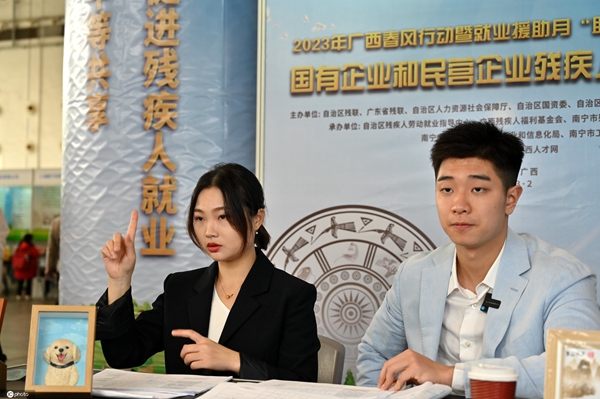 A livestream host (L) uses sign language during a live broadcast in the recruitment exhibition hall for disabled people at the 2023 Spring Regional Talent Exchange Conference, Nanning, Guangxi province, Feb. 18, 2023. [Photo by Yu Jing/cnsphoto/IC photo]
Meanwhile, many in-person recruitment activities also introduced livestreaming to simultaneously advertise jobs online, making full use of the fast and convenient functions of new media platforms to effectively promote recruitment needs.
In order to seize on the important period of recruitment activities in March and April, the central government and local governments launched a series of employment promotion measures.
Focusing on the key group of college graduates, the Ministry of Human Resources and Social Security launched the "Job Introducing the Future-2023 Spring Special Event for Joint Recruitment of College Graduates in Large and Medium-Sized Cities" from March 19 to May 26, organizing targeted, customized, in-person job fairs of various sizes to mobilize enterprises to recruit on campuses.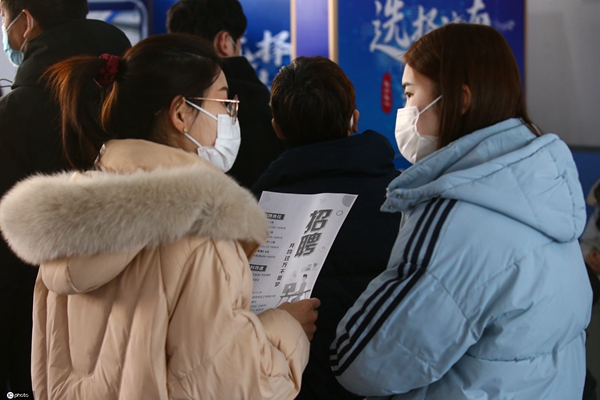 Job seekers apply for jobs at a local talent market, Jinan, Shandong province, Feb. 15, 2023. [IC photo]