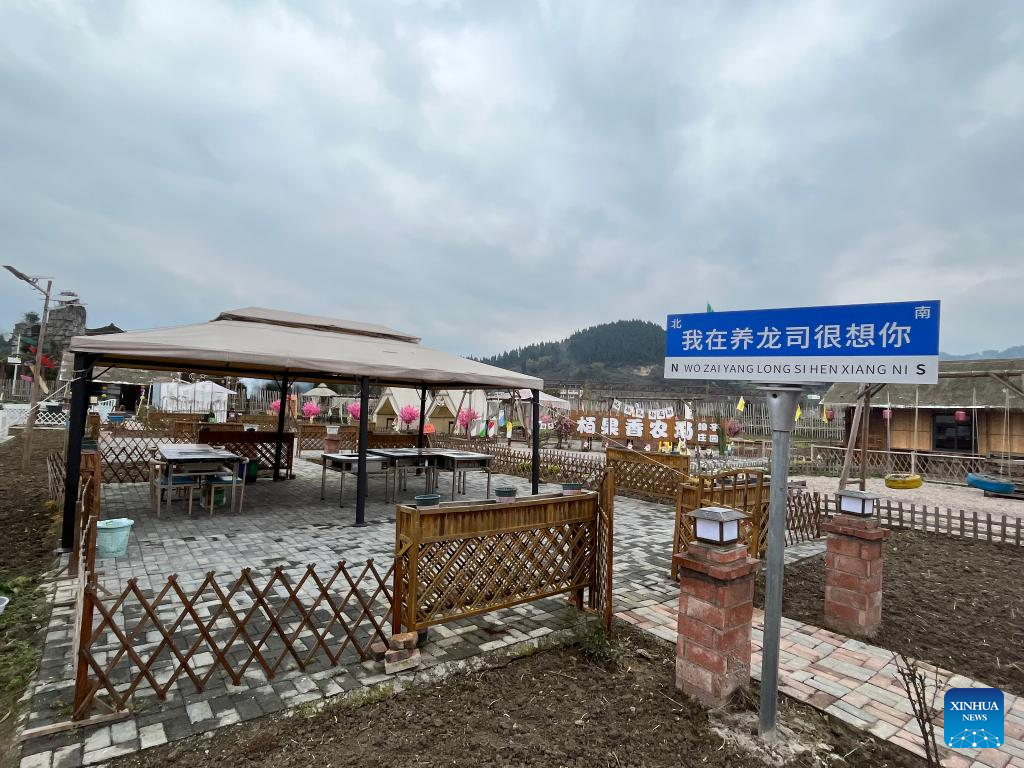 This photo taken on Feb. 24, 2023 shows the plantation "Ladies' Manor," the 50-plus employees of which are predominantly women, in Baozi Village of Xifeng County, southwest China's Guizhou Province. [Photo/Xinhua]
In late March, a plantation in Baozi Village, southwest China's Guizhou Province, was bustling with tourists having tea around stoves or picking fruit for fun.
Covering an area of 39,000 square meters and with an investment of more than 10 million yuan (about 1.45 million U.S. dollars), the plantation grows various fruits including citrus, passion fruit, and dragon fruit, and can receive a daily capacity of 500 tourists.
"We call the plantation 'Ladies' Manor,' because our 50-plus employees are predominantly women," said Huang Dan, head of the plantation.
Huang, 35, is a native of Liuchang Township, not far from Baozi Village. After starting her business in 2019, she has led her women's team in developing the plantation into a booming business with an annual revenue of multi-million yuan.
In Baozi, many successful women like Huang said they have been inspired by an episode of history that made the village a household name in China. In the 1950s, China began to encourage women, who had long been tied to domestic chores, to take an active part in production, as part of the effort to develop agriculture. However, women at that time were paid considerably less than men.
Villager Wen Anrong, now 87, recalled that a woman had to work two or three days to earn the same labor credit a man earned in one day. Many women regarded the pay system as unfair.
As a result, a heated debate began in the village, with many women strongly demanding the same pay as men. They eventually succeeded. The struggle for equal pay helped boost women's productivity, resulting in an increase in grain production.
Villager Qiu Deying, now 81, once scored 5,551 labor credits to claim the championship of the year, beating all her male co-workers in doing so.
"People said women can't do as well as men. I didn't buy it," said Qiu. "Women hold up half the sky. We are as competent as men."
"The practice of gender equality had fully unleashed the productivity and creativity of women," said Tan Li, Party chief of Baozi.
After an agricultural publication ran an article on Baozi's achievement in 1955, Chairman Mao Zedong called on other villages and cooperatives to follow suit. People from all over the country began visiting Baozi to learn from the experience there.
Women in Baozi also started to be active in public affairs. For a long time, women have taken up the majority of posts on the village leadership committees.
Village official Chen Hongfang, 58, is Wen's daughter-in-law. "Every time my mother-in-law told me the story of fighting for equal pay, I was deeply touched," she said. "She often encouraged me to do things as well as men."
Tan, the village Party chief, has attributed the development of Baozi in large part to the work ethic of its female cadres.
When the village piloted garbage sorting, Chen diligently patrolled the village daily to correct wrongdoings, according to Tan.
"Once, she even fainted from the bad smell as she dug among the trash to show the villagers how to separate dry garbage from wet garbage," Tan recalled. "The villagers were all moved by her work ethic."
Experts have spoken highly of how this historic episode of fighting for gender equality has served as an inspiration for generations of women in the village.
"The deeds of women in Baozi reflected their awareness of the need to protect their own labor rights and interests," said Wang Dan, an official with the Guizhou provincial women's federation, adding that their spirit has taken root and flourished across China.
"I hope the society will offer more support and opportunities for capable women to shine on a bigger stage," said Jiao Jie, executive deputy director of the women's research center at Shaanxi Normal University.