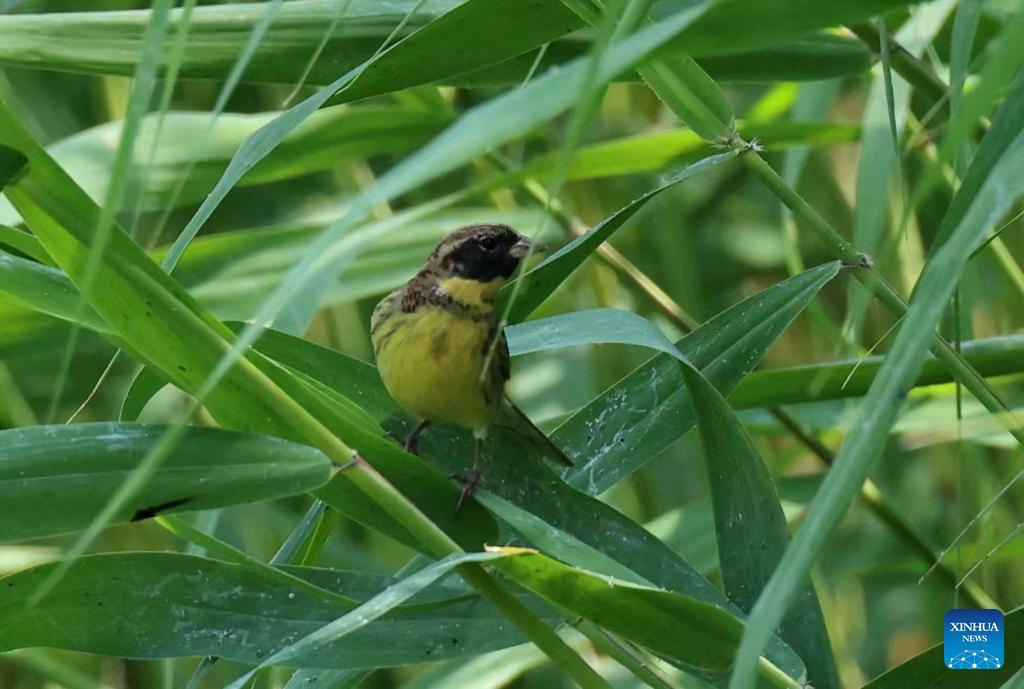 A yellow-breasted bunting is spotted at the Olympic Forest Park in Beijing, capital of China, May 18, 2023. [Photo/Xinhua]
Beijing has charted a total of 6,408 species of all kinds from 2020 to 2022 in its ongoing biodiversity survey, recording 3,560 species in the 2022 phase alone, according to a recent press conference on ecological protection held in the city.
"Over the years, Beijing has implemented a series of measures including afforestation, ecological restoration and wetland rehabilitation," stated Feng Da, deputy director of the Natural Protected Areas Management Division of the Beijing Municipal Forestry and Parks Bureau.
"There are 79 protected natural areas across five categories in Beijing, accounting for approximately 20% of the city's area. This has formed a comprehensive system of protected natural areas with a wide distribution. More than 90% of the city's wildlife and habitats under key protection have been effectively preserved," Feng added.
The survey found that Beijing is home to 608 species of wild terrestrial vertebrates, 2,088 species of vascular plants, and 515 species of birds. "Remarkable achievements have been made in the conservation of biodiversity and landscaping, aiding Beijing in its evolution into a 'city of biodiversity,'" the official noted.
Cao Zhiping, director of the nature and ecology conservation department of the Beijing Municipal Ecology and Environment Bureau, pointed out that some species observed in Beijing are indicative of sustained ecological improvement. Butterflies, for example, are commonly used as indicator species due to their short life cycles and sensitivity to environmental change, ecosystem health and human disturbance.
The survey registered nearly 30 species of butterflies in Beijing's urban area, including those with a high demand for wild vegetation. This signals the continued improvement of the city's ecological environment.