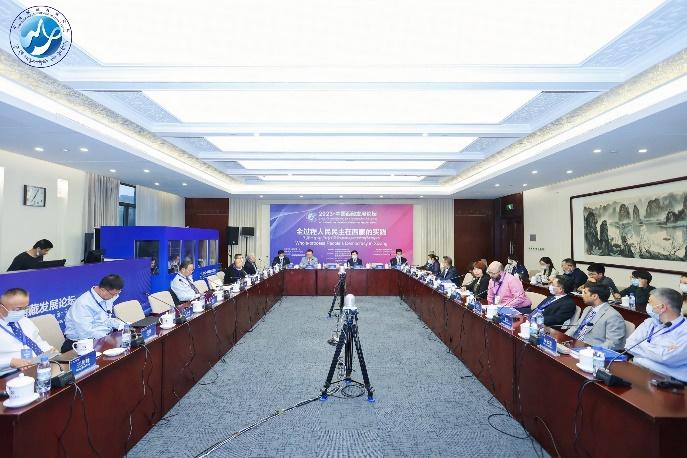 A sub-forum on whole-process people's democracy in Xizang is held during the "2023 Forum on the Development of Xizang, China" in Beijing on May 23, 2023. [Photo provided to China.org.cn]
The "2023 Forum on the Development of Xizang, China" took place in Beijing on Tuesday, shedding light on the new chapter of high-quality development and human rights protection in the southwestern autonomous region of China.
In a congratulatory letter to the forum, President Xi Jinping noted, "People's happiness is the ultimate human right, while development holds the key to delivering better lives to the people."
To this end, Xizang has implemented whole-process people's democracy to give full expression to the will of local residents of all ethnic groups and protect their rights and interests, significantly enhancing the quality of life for local people.
Since the 18th National Congress of the Communist Party of China (CPC) in 2012, people in Xizang, with the strong support of the central government and people throughout the country, have worked with fortitude and brought about a resolution to the problem of extreme poverty that had plagued the region for centuries, Xi's letter explained.
Whole -process people's democracy is the defining feature of socialist democracy; it is democracy in its broadest, most genuine, and most effective form.
During a sub-forum on whole-process people's democracy, Roland Boer, a distinguished professor at the School of Philosophy at Renmin University of China, highlighted the need for a socialist, or more specifically, Marxist, approach to justice and rights. He stressed that the stunning economic development of Xizang could be understood within the context of a Marxist and socialist approach to human rights.
On a field trip to Xizang before the forum, Boer observed newly built and upgraded roads, railway lines, modern buildings, and readily available water, electricity, and communications networks. "My phone could even receive signal at around 5,000 meters above sea level," Boer remarked.
Hendy Yuniarto, a lecturer from the School of Asian Studies of Beijing Foreign Studies University, discussed the role of sustainable tourism in alleviating poverty in Xizang based on his visit to Nyingchi. He emphasized that sustainable tourism in Xizang has struck a balance between local economic development, improved livelihoods, and the protection of natural scenery and unique cultural resources.
Sergio Cabrera, the Colombian ambassador to China, pointed out that Colombia could learn from Xizang's experiences in poverty alleviation, infrastructure development, ecological conservation, and cultural preservation.
Giuseppe Yoffreda, Venezuela's ambassador to China, underscored the significant investments China has made to improve education, healthcare, housing, culture, employment and social security in Xizang, leading to improved living conditions for locals. He expressed his anticipation that China and Venezuela could collaborate on developing democracy and contribute to the building of a community with a shared future for mankind.
Han Yuanlin, executive deputy secretary-general of the Standing Committee of the People's Congress of Xizang, applauded the continually improving election system in the autonomous region. He noted that of the 42,000 deputies to the people's congresses of five levels (national, regional, municipal, county-level, and township-level) in Xizang, 89.24% are from Tibetan and other ethnic minorities.
He further revealed that as of May 2021, the central government had provided financial aid totaling 1.63 trillion yuan ($231.5 billion) to aid Xizang's development. This has led people of all ethnic groups to feel a deep-rooted connection between Xizang's future and the broader destiny of the nation.
Wang Qingxian, vice president of the Party School of the CPC Committee in Xizang, observed that in today's Xizang, whole-process people's democracy is evident across all spheres of economic and social development. From shaping the legislation of the autonomous region to overseeing financial budgeting and implementation, and even participating in local tasks such as household waste sorting and property management, residents actively contribute to all these activities, with their individual needs and suggestions duly considered and incorporated.
Qin Yongzhang, a researcher at the Institute of Ethnology and Anthropology at the Chinese Academy of Social Sciences, explained the practice of whole-process people's democracy in Xizang through the lens of freedom of religious belief.
Qin noted that there are more than 1,700 sites dedicated to Tibetan Buddhist practices accommodating over 46,000 monks and nuns, all of whom have been included in the social security system. This coverage extends to pensions, medical insurance and subsistence allowance schemes.