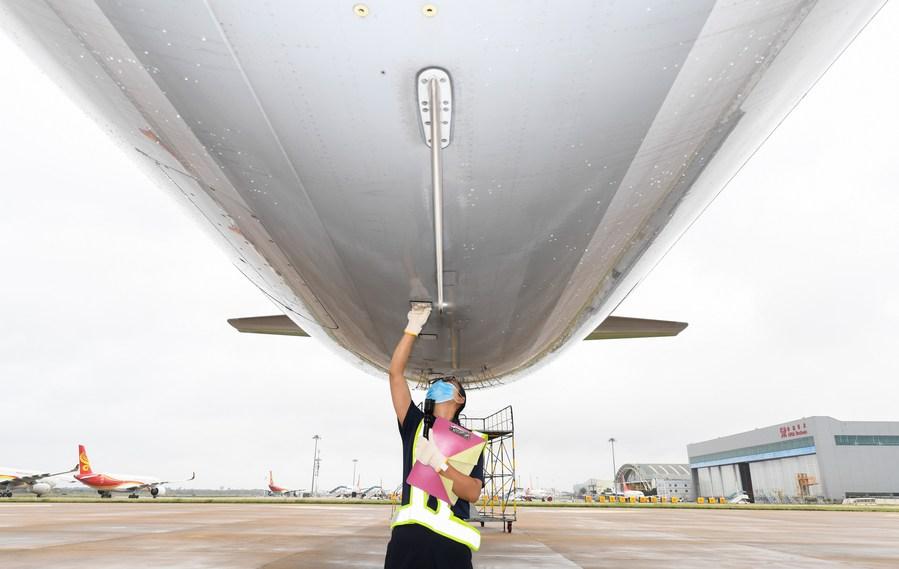 A maintenance engineer checks an airplane at the Haikou Meilan International Airport in Haikou, south China's Hainan Province, March 6, 2020. [Photo/Xinhua]
Chinese researchers have developed a lightweight and conformable system on the wing surface of aircraft for stall sensing, according to a research article published in the journal Nature Communications.
The digital-visualization array for turbulence stall sensing (DATSS) system can monitor the degree of airflow separation on the airfoil of fixed-wing aircraft in situ and provide stall warning, stall degree analysis, and flight state correction data for the aircraft operator.
Turbulence can cause airflow to detach at the end of the wings, potentially resulting in the aerodynamic stall of aircraft and causing flight accidents, said the research article.
The sensing system is irreplaceable in ensuring flight safety. Therefore, the researchers from the Chinese Academy of Sciences hope to enhance the accuracy of the stall sensing system.
The system has passed the wind tunnel and flight tests. The results show that the DATSS system can visualize and directly measure the airflow detaching process on the airfoil, and sense the degree of airflow separation during and after a stall for large aircraft and unmanned aerial vehicles (UAV).